Imgur
If a picture speaks a thousand words then Jori Phillips' viral dress sensation shouts an entire dictionary.
The 21-year-old Vancouver actress become an internet sensation after creating a dress made entirely out of a thesaurus. She cut and glued the pages together for a character she played at this year's Denman Island Readers and Writers Festival.
Pictures of the dress went viral after they were posted on Imgur, racking up 88,910 views as of Monday and leading to calls from Vancouver's arts community to feature it in plays and art shows, Metro News reported.
Phillips is now hoping to get the dress on the Ellen Show, she said in a Facebook post.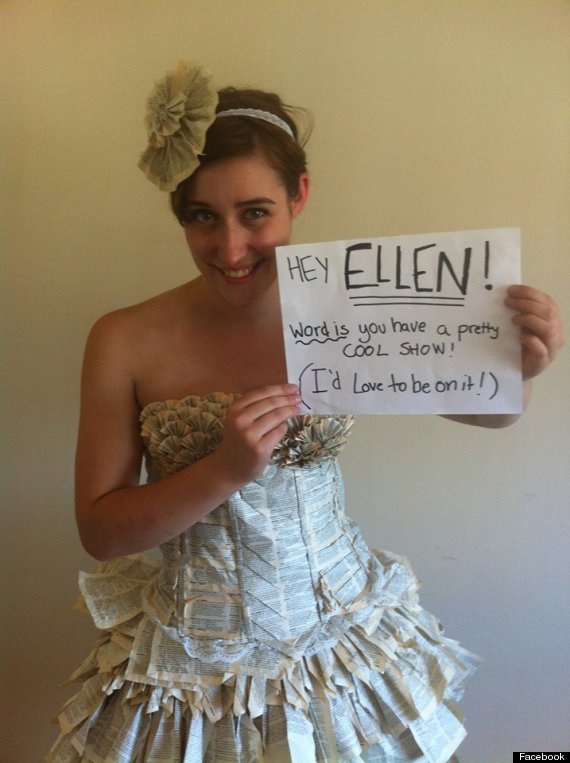 Phillips made the dress without a pattern over two months, using hot glue to hold the pages together, Mashable reported.
"I'm an avid reader, and I loved the idea of a girl who reads so much that she becomes the book," she said.
Phillips lined the dress with fabric, adding a bodice, a small paper headpiece and a sash saying, "Miss-Spelled" to complete the character, The Daily Mail reported.
She told Metro the highlight of all the attention so far was a tweet by children's horror author R.L. Stine .
A dress made from a book? Doesn't that make it hard to read? http://t.co/ITsaPM8YIs

— R.L. Stine (@RL_Stine) July 26, 2013
Phillips hopes the attention from the dress will help her land an agent, Metro News reported.
Check out Jori Phillips and her "Thesaurus Dress."
Jori Phillips' Thesaurus Dress