Getty
A months-long standoff between the City of Vancouver and bike lane opponents on the city's west side came to an end late Monday night as council voted to create new cycling infrastructure in Kitsilano.
Council approved numerous measures to complete the Seaside Greenway, a path that will now stretch from downtown Vancouver all the way to Spanish Banks beach, The Globe and Mail reported.
The plan includes improved sidewalks and new separated bike lanes on the north side of Point Grey Road, as well as a York Bikeway from Stephens Street to Burrard Street with alternating one-way streets between Vine and Maple, according to a council package.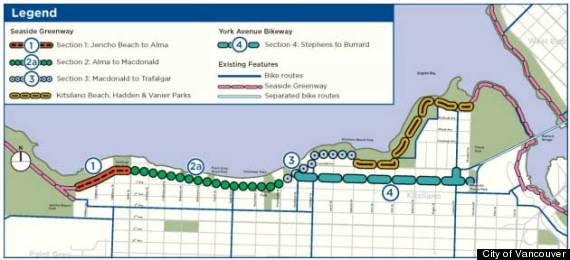 A section of Point Grey Road west of Macdonald Street transformed into a local street by making it one-way from Alma to Waterloo and closing it at Trutch and MacDonald.
The plan will also discourage traffic coming off the south end of Burrard Bridge from continuing on to Cornwall and Point Grey Road, The Globe reported.
"This has been seven months consultation but decades in the coming," Coun. Heather Deal said, according to The Province.
"This route is going to become a jewel. People will adapt to it and we will be glad we did it."
Hundreds of residents spoke on the plan over five nights of debate, with one speaker calling the plan a "modest gain" for cyclists but an inconvenience for residents in neighbouring areas. Approximately 10,000 commuters will be forced to use streets such as MacDonald, 4th Avenue and Broadway.
Not everyone supported the plan.
"We've divided this community and I think we need to bring them back together," NPA Coun. George Affleck said. He and NPA Coun. Elizabeth Ball tried to push back a decision on the plan until October but were opposed by the majority of council, The Globe reported.
Also on HuffPost