The Toronto Caribbean Carnival, formerly known as Caribana, kicked off in early July and runs until Sunday, August 4. The festival, known for its Caribbean Carnival Parade (which is the largest in North America), street parties and nightlife, is a celebration of music, costumes and of course, food.
And while jerk chicken, Jamaican patties and stuffed rotis are available at Caribbean restaurants all year around, carnival time is also a time to experiment with these traditional dishes at home.
In honour of Caribana 2013, we've rounded up 21 of the tastiest and most popular Caribbean foods both during the festival and overseas.
Which ones did we miss? Add them to the comments section below: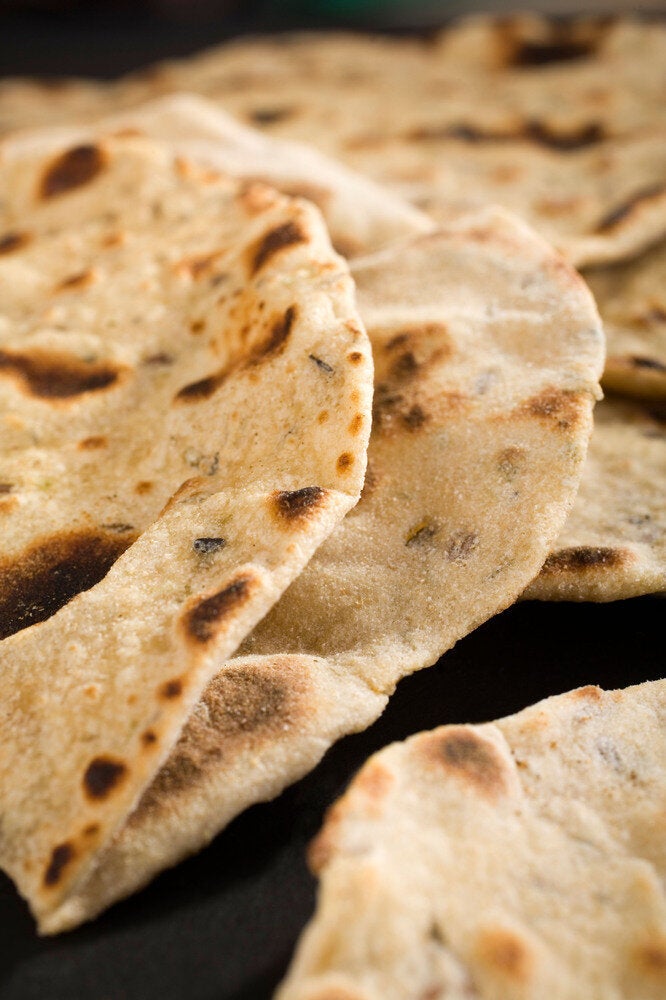 21 Of The Best Caribbean Foods
Roti is traditionally a type of Indian bread or tortilla made with wholemeal or wholewheat flour. In Caribbean cuisines, rotis are used as wraps stuffed with savoury vegetable or meat curries.
Jerk is a Jamaican style of cooking meat or fish, which usually involves marinating with allspice and habanero peppers. Get the recipe here.
Oxtail refers to cattle tail and is a gelatin-rich meat used in stews, soups and curries. Try the recipe here.
Doubles, popular in Trinidad and Tobago, is a sandwich made with two deep-fried flat breads stuffed with a chickpea curry. You can also top your doubles off with hot sauces or tamarind sauce for an extra kick.
Popular in Trinidad and Tobago and Guyana, pholourie are savory fritters made with split-pea flour and served with a sweet or tangy chutney.
Irish Moss is a drink often made from pureed sea algae and flavoured with vanilla, peanuts and oats, to name a few. But why is it so popular? It's also apparently an aphrodisiac.
For the freshest water...go straight to the coconut. Coconut water is hydrating, fat-free and well, can easily make you feel like you're on a hot Caribbean beach.
Callaloo is a popular Caribbean dish made from a leafy vegetable called amaranth and taro. In North America, spinach can also be used.
Ackee fruit paired with saltfish is one of Jamaica's most popular dishes. Since you probably won't find ackee on any tree in your neighbourhood, you can get them canned in Caribbean grocery stores.
Barbados Tomato And Corn Soup
This simple and spicy soup can be eaten as a main or starter. Get the recipe here.
Ginger beer is a carbonated drink made with ginger (duh) and sugar or sweeteners. Oh, and if you're really up for experimenting, you can try making your own.
This popular street food in Trinidad and Tobago is made with seasoned fried shark stuffed between fried dough.
Aloo or potato pie is similar to Indian samosas or calzones. It consists of a fried pasty stuffed with spiced and mashed potatoes and green peas.
Rice and beans (or peas) is a classic Caribbean dish that can be eaten as a main (topped with meat or vegetables) or as a side.
Many cultures have their own spin on bread pudding and in the Caribbean, this dish is a popular dessert. Get the recipe here.
These salted and fried cod cakes make the perfect appetizer. Get the recipe here.
Another popular Trini dish, pelau, is made with pigeon peas, meat, fresh herbs and coconut milk. Get the recipe here.
If you're ever eating a full Caribbean dinner, you'll most likely have plantains at some point. Part of the banana family, plantains are a starchy fruit that can be eaten fried, boiled and even as chips.
Jamaican patties are savoury pastries made with an egg yolk flaky shell and usually stuffed with a spicy filling. You can find them in beef, chicken and vegetable flavours.