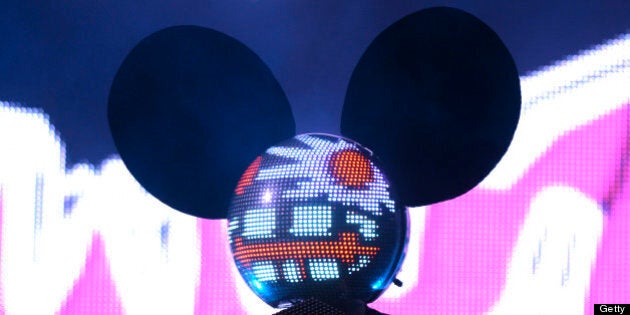 Deadmau5 is a few interviews into his press day supporting his annual Veld Festival, Toronto's biggest electronic dance event, and he's had about all of the Justin Bieber he can handle.
Less than twenty-four hours after being spotted next to everyone's favourite bucket-pissing deadbeat monkey-dad at Toronto's Cabana Pool Bar –- and after trolling the overenthusiastic Beliebers of Twitter with snarky tweets about the pop star and off-colour jokes about "vicariously finger-banging Selena" –- the EDM superstar is sick to death of being asked about it.
He's especially upset because the Belieber brouhaha distracted people from a much more important Twitter campaign that he tried to launch that same day: getting himself on "Top Gear," the BBC's enormously popular motoring show.
"Which got fucking buried thanks to that little prick," Deadmau5, aka Joel Zimmerman, tells The Huffington Post. "Like you little fuck. I can't believe it. I was so fucking stoked that whole day and then he just shows up and, I shit you not, I didn't think about anything else other than 'You just fucking ruined every chance I ever had of getting on fucking 'Top Gear.' So that's that."
Deadmau5 has become quite the car lover as of late. Literally. "I have turned into a car fanatic almost overnight," he says. "It's actually pretty funny because I didn't get my license until October. I didn't really care because I lived in downtown Toronto. So then I get my first kind of cool car, a Porsche 911, not a Turbo, but baby steps. So I get that and then I start fucking going off the deep end. Like, you start going off to Vegas and you start renting a little better ones and then taking those around the track and I'm like 'Oh wow! This is so fun.'"
Like any good fledgling petrolhead, Deadmau5 soon added a Ferrari 458 to his garage and the most popular automotive program in the world to his viewing habits.
So when "Top Gear" actually played one of his songs ("Superliminal") in a segment, it seemed like destiny. (Not to mention that host Jeremy Clarkson got in trouble recently for tweeting a pic of an actual dead mouse!) Deadmau5 hoped to capitalize on the buzz and become the next Star In A Reasonably-Priced Car to race around the show's trademark test track.
"Everyone was like, 'Dude, get on BBC Top Gear'' And I'm like, oh man, this is awesome. And everyone's tweeting about and tweeting about it. And I was like 'I'd love to be on Top Gear!' and I would. That would be amazing. And then Justin shows up and then that tweet just got buried."
Deadmau5 hasn't completely given up on his dreams of being interviewed by Clarkson and getting racing tips from The Stig just yet, though. And he's going to put some serious work into his driving in the meantime, because he intends to make a serious impression if and when he's invited to race on the show. His goal is to be the fastest star to ever speed around that track, leaving recent challengers like Benedict Cumberbatch and Hugh Jackman in his dust.
"I'd love to go rally around with those guys, but I've gotta take some lessons first," Zimmerman admits. "Because I honestly want to get the best lap time."
So when he finishes up his headlining set at Veld this weekend, sharing the stage at Toronto's Downsview Park with fellow EDM giants like Above & Beyond, Kaskade, Steve Angello and Steve Aoki over the course of the two-day festival, he's going to shift gears for a while and learn how to, well, shift gears.
"I'm going to hit up Cayuga or something and find a reasonably good driving instructor so I don't kill myself -- or anyone else."
And on that bombshell, it's time to end this story.