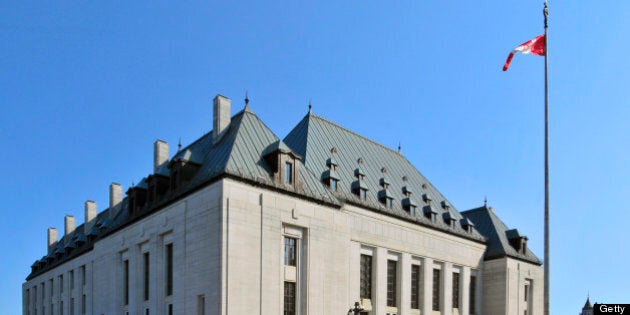 Canada's top court is set to rule Thursday on a case that could affect the growing number of people who represent themselves in criminal courts.
The question before the Supreme Court of Canada is: who decides how much amicus curaie, or "friends of the court," are paid.
The case, in Her Majesty the Queen v. The Criminal Lawyers' Association of Ontario and Lawrence Greenspon, involves several instances where people facing serious criminal charges ended up in court without legal counsel and the judge appointed an independent lawyer to act as a friend of the court.
The accused were either unable to obtain legal aid or were disruptive clients with a history of firing their lawyers. When a judge appoints an amicus, it's up to the judge to decide what role that lawyer will play. They can be asked to, among other things, examine witnesses and write submissions or help the judge communicate with the accused.
In 2008, Ottawa lawyer Lawrence Greenspon was asked to be a friend of the court in the case of a man charged with first-degree murder.
"That's something that the courts and everybody who's interested in the administration of justice is very wary of because it's the most serious charge, a person representing themselves, that's not a good combination."
The Ontario government does not take issue with a judge appointing an amicus. But it does have a problem with the courts deciding how much that person will get paid. In Greenspon's case, the judge set his rate at $250 per hour.
The dispute is over who decides that rate of pay.
In court documents, the Ontario government argues the courts do not have the jurisdiction "to set the rates of amicus and order Ontario to pay any more than the court would do so in cases where legal aid funding is available."
In doing so, the government says, the courts have authorized "an alternative legal aid regime at significantly higher rates of compensation and with none of the controls, transparency or public accountability provided for under the Legal Aid Services Act."
But Greenspon says the legal aid system is for all intents and purposes bankrupt. "There is not enough money in the legal aid system to properly compensate middle- and senior-level lawyers on serious charges."
He adds amicus don't perform the same duties as defence counsel and that paying them a legal aid wage could deter experienced lawyers from taking on these often complicated cases.
While the case may sound like a narrow and technical legal question, University of Ottawa law professor Carissima Mathen says it does affect the public.
"If the court feels that there's a threat to a fair trial, the ultimate result is that the case can be thrown out and the court can issue a stay and then the trial never goes ahead. So I think the public has a keen interest in ensuring the justice system functions appropriately."