'Mo Money, Mo Problems' may seem like an unlikely tune to describe Stephen Harper's Conservatives, yet amid months of scandals and resignations, the Tories defied expectations by posting a "blow-out" second quarter of fundraising.
Party financial data made public by Elections Canada shows that the Tories out-fundraised the Liberals and NDP by garnering over $4.86 million dollars from 30,437 donors beginning of April til the end of June. It's the most the party has managed to raise in a second quarter in the last six years, notes the Hill Times.
The cash comeback apparently stems from a boost in the number of bigger donors, with the number of contributors giving more than $200 in the second quarter pegged at 4,616 -- an all-time high for a non-election year. Adding to the Conservatives' coffers was a bigger average donation size of $582.74 according to Punditsguide.ca.
The increase in more generous donors indicates a change from the Conservatives' traditional strategy of relying on large numbers of smaller donations, Greg MacEachern, vice-president of Environics and a former Liberal Hill staffer told the Hill Times.
However, the booming second quarter could suggest that the Conservatives' stronger Q2 push leaves many donors tapped out and unable to make any more donations for the rest of the year.
In that case, the Tories would be forced find cash sources elsewhere.
By comparison, the Liberals raised nearly $2.96 million from 38,014 donors, a record number of donors for the Grits since 2007. Meanwhile, the NDP raised $1.3-million during the three-months from a base of 18,846 people. The Green and Bloc placed in a distance 4th and 5th place earning $318,966.62 from 4,539 donors and $69,953.30 from 788 contributors respectively.
While the Tories once dominated the fundraising game, signs suggest things are changing.
Last year, the Tories ended 2012 with a $17.3 million from 87,300 donors while the Liberals made $8.2 million from 44,500 donors and the NDP raked in $7.7 million from 43,537 donors to out-fundraise the Tories when combined.
With Files From The Canadian Press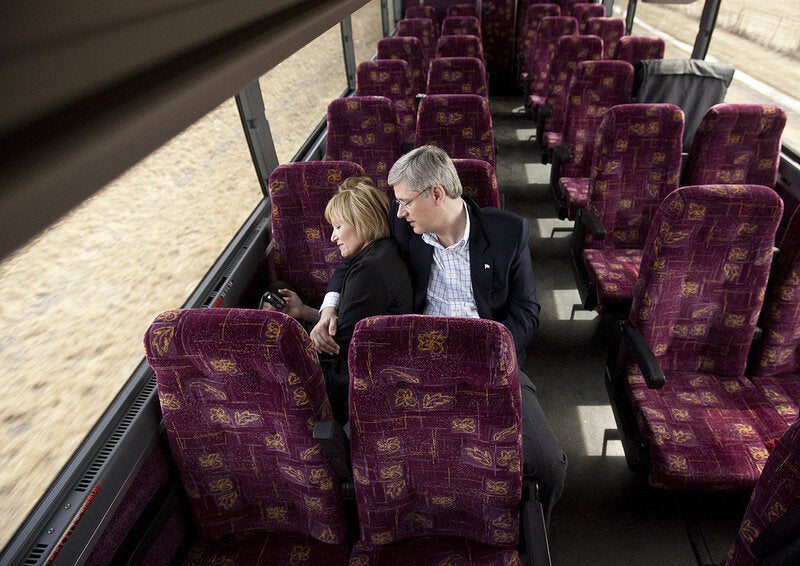 Memorable Stephen Harper Pictures