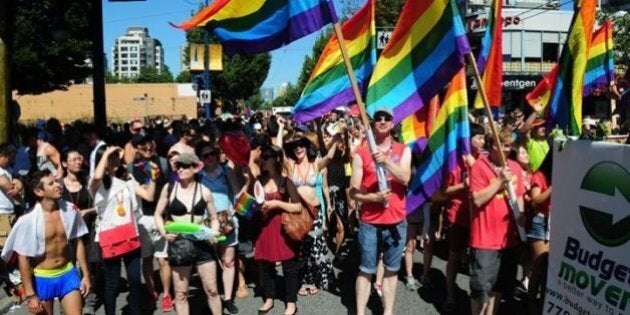 Never mind the weather, nothing will rain on this parade.
Pride spirits are flying high in Vancouver, the rainbow flag at city hall is up and a crosswalk in the West End has been given a colourful permanent makeover.
Some members of city's LGBTQ community and its supporters have also come together to protest Russia's anti-gay laws sweeping the country prior to the start of the Sochi Olympics next year.
So how will a city fierce with LGBTQ pride celebrate? Check out some highlights of this weekend's events below.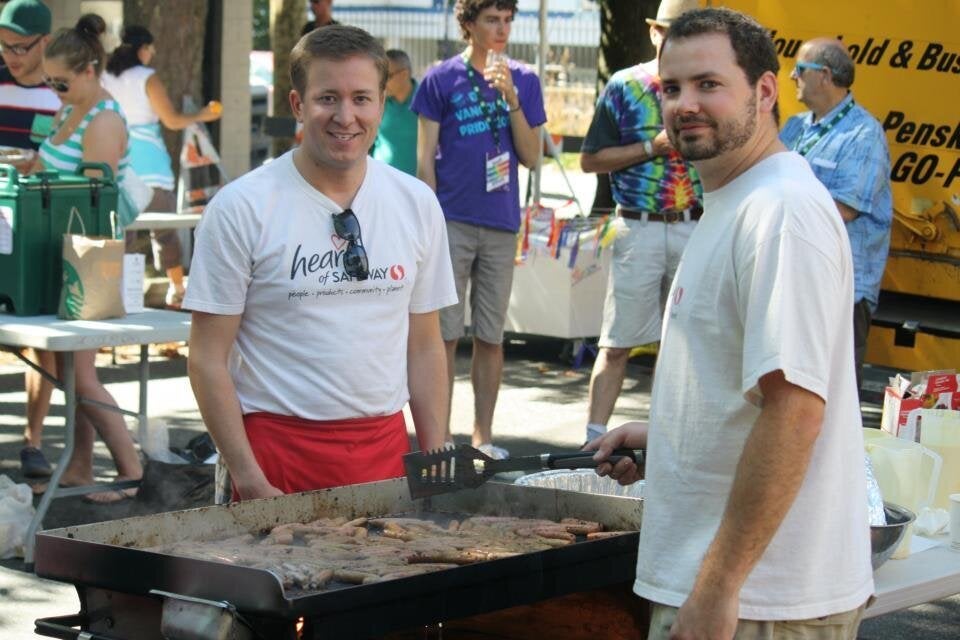 Vancouver Pride Events 2013
Terry Wallace Memorial Breakfast, 8:30 a.m., Bute Street at Davie Street
In memory of one of the founders of Vancouver Pride, local church groups and volunteers will pitch in to serve an annual community pancake breakfast to honour the legacy of Terry Wallace. Breakfast is by donation and includes pancakes, sausages, fruit, juice and coffee.
Cutting Edges, 9-11:45 a.m., Hillcrest Community Centre
Canucks fans looking to quench their hockey thirst in the off-season, listen up. Cutting Edges, Western Canada's only gay mens' club, have organized their own Vancouver Pride Classic tournament and you're welcome to join the crowd for a good ol' hockey tourney. Plus, keep an eye out for Cutting Edges on Sunday, all teams will march in the Pride Parade in support of the You Can Play project.
Trans And GenderQueer All-Ages Dance Party, 7 – 11 p.m., Vivo Media Arts Centre
Get dance-ready for the parade at Vancouver Pride's first official party to celebrate the city's trans and gender-queer community. Admission is free.
Pride Festival And Market, 11 a.m., Sunset Beach
Local musicians and performers are set to take the stage at Sunset Beach next to a buzzing beachside all-day marketplace. Notable highlight: Canadian R&B singer Deborah Cox is scheduled to play a free set for Pride revelers.
Pride Parade, 12 p.m., Robson Street to Denman Avenue to Pacific Boulevard
This is it: the street party that transforms the city's West End into Pride central. Celebrating its 35th anniversary, organizers expect a record crowd of over 650,000 people to attend. Bring sunscreen.
Clean, Sober And Proud, 8 p.m., Vancity Theatre
Hosted by the Last Door Recovery Society, proud sober members of the LGBTQ community are invited to celebrate Pride together with a high-energy dance party fueled by live music, DJs, and drag performances. Tickets are $10 and are available online or at Little Sisters.
Youth Dance, 8 p.m., West End Community Centre
Under 25? The Vancouver Pride Society and GAB Youth have teamed up to throw a party with "safe dancing and clean fun." There's a strict photo ID policy in effect, tickets are available through donation and go toward funding GAB Youth programs.
After Party, 9 p.m., Ginger 62
For those Pride veterans who have the stamina, the party continues at Ginger 62 long after Davie and Denman reopen to traffic. Hosted by Symone featuring DJ UK, DJ Mary Funkhauser & Quest, and other surprise guests, tickets are $10 and all proceeds go towards the Vancouver Pride Society.