EDMONTON - Police are looking for three daredevils who left onlookers bewildered when they parachuted from the top of a 36-storey condominium tower under construction in Edmonton.
Investigators believe three men entered the fenced and locked construction site on Sunday evening in a west-central neighbourhood, climbed to the top and pulled off what's known as a BASE jump.
They floated to earth, landing a short distance away along Victoria Promenade and jumped into a waiting vehicle before fleeing.
Story continues after photo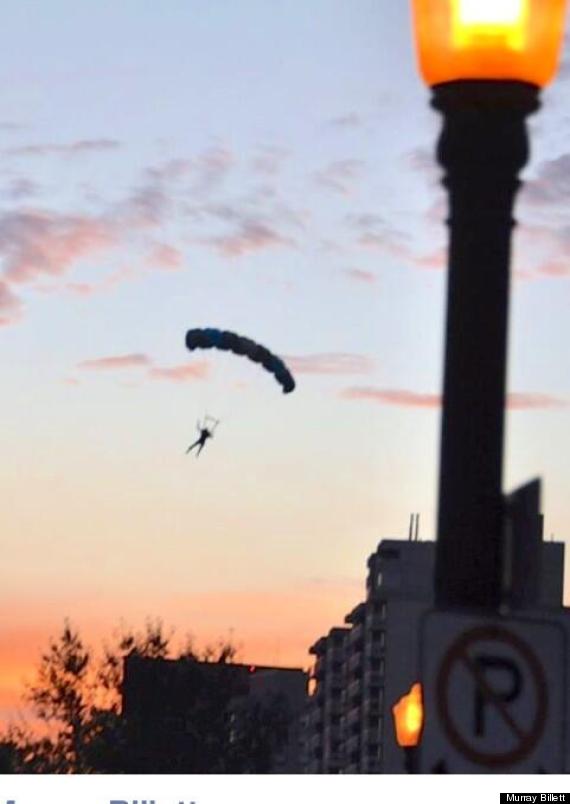 Many onlookers smiled as the trio floated down to earth, but police Insp. Brian Nowlan says the stunt is dangerous and shows disregard for public safety.
"Regardless of how well-prepared jumpers believe they are, this is a very dangerous and illegal activity not at all suited for an urban environment," Nowlan said.
"The safety of the jumpers and persons on the street has to be considered as everything is over in a matter of seconds. There is the real potential for things to go wrong – with equipment or wind conditions or even traffic on the street – and there is the real possibility of injury and death as well as property damage.
"Thankfully, there have only been a few of these incidents here over the years."
Witnesses told the Edmonton Journal the spectacle was over in just a few seconds.
"It was as exciting as it was stupid," Murray Billett, who was outside on Victoria Promenade watching the sunset, told the Journal.
So much could've gone wrong throughout the stunt, Billett then told the CBC.
"They could have landed... got hit by a car," he said.
"They could have got caught on the balcony.
"It wouldn't take much of a breeze to take them down onto the road down here, never mind taking out some of the seniors down here."
BASE is the acronym for four categories of fixed objects from which a parachutist can jump. Those are buildings, antennas, spans (bridges), and earth (cliffs).
The Edmonton Police Service says BASE jumping is a legitimate activity. What isn't legal is where the trio decided to do it, says the EPS.
Depending on the circumstances, the jumpers face charges ranging from trespassing, break and enter, or mischief.
In July 2011, three parachutists jumped from an officer tower under construction in downtown Edmonton.
Police think both jumps may be connected.
-With files by CP
Also on HuffPost
Felix Baumgartner's Record-Setting Skydive Attempt