David Doyle Photography
A night of ear-splitting thunder and blinding lightning gave way to flash flooding in Edmonton and surrounding communities Sunday night.
The drive back to a new workweek for Edmonton commuters was made that much harder, as underpasses along many thoroughfares were underwater and impassable.
Flooding closed down westbound Yellowhead at St. Alberta Trail, while ligts were also out along other parts of the artery. The road remained closed as crews moved in to repair pavement damaged by the flood.
Traffic heads up! Yellowhead @ St. Albert trail CLOSED w/b. Flooding tore up the road last night #yeg #yegtraffic pic.twitter.com/g6xw5O25s7

— stacey brotzel (@staceybrotzel) August 12, 2013
Water also pooled along other main thoroughfares, causing delays.
According to Environment Canada, 39 mm of rain have fallen in Edmonton this month so far, nearly 35 of those came in a span of a couple of hours Sunday night.
Story continues after photo.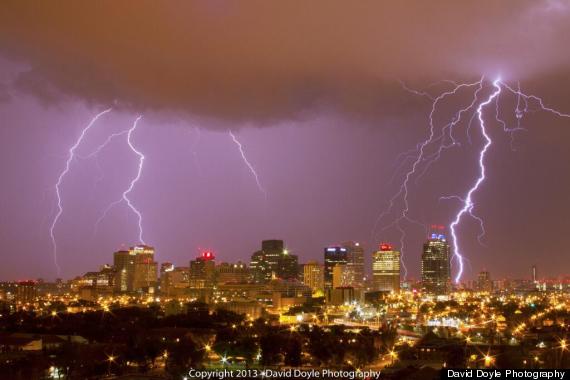 A severe thunderstorm watch was issued for Edmonton around 8 p.m. Sunday night. The storm hit the city hard.
Edmonton storm started trending on Twitter, with Edmontonians sharing photos, as some dealt with their fears by sharing their discomfort.
Others, however, embraced the violence Mother Nature was unleashing outside their windows.
Story continues after slideshow.
Another recent flash flood struck Edmonton just as southern Alberta was starting to clean up from its own massive flood in June.
Highways and freeways in and around Edmonton were closed after sporadic downpours blanketed the area on June 25.
It has been a harsh summer for severe weather in Alberta, which also saw severe flooding in Fort McMurray and a flush flood in Calgary, as the city was still trying to clean up from the massive floods earlier in the summer.
A flash storm that materialized over Lethbridge on July 17, and that lasted mere minutes, caused massive destruction, in the form of wind, hail and flood damage.