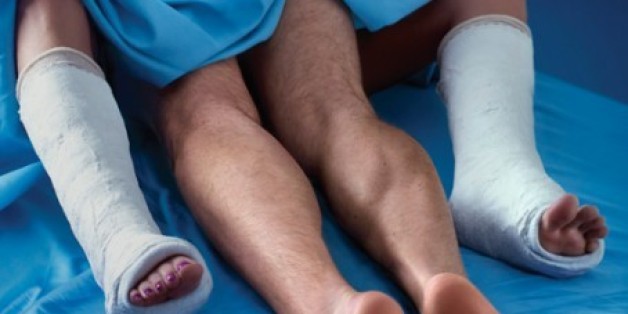 Rethink Canada
The fact that "orgasms can kill pain" isn't bothering anyone; the art is.
That's the slogan on one racy ad causing some buzz for Science World's "Science of Sexuality" exhibit in Vancouver. Created by ad agency Rethink, the ad shows an injured woman – her legs are bound in casts – engaging in sex with a man on top.
The hot and heavy ads were designed to be cheeky icebreakers to get people curious about the science behind sexuality, according to Science World communications coordinator Jason Bosher.
"In North America, we're still a little bit repressed about sexuality and sex. Even though it's part of society, we don't talk about it much," Bosher told The Huffington Post B.C. on Tuesday.
"They're a bit more in-your-face than a lot of ads, I guess."
Only one of the three ads in the series — the one about birth control — was deemed appropriate to display at Vancouver bus stops. The other two about pain-killing sex and cold-curing ejaculations have been limited to online release.
"At the end of the day, it's just used tissue that we're showing," Rethink copywriter Justin Li explained to CBC news.
The exhibit at Science World runs until Sept. 2.
See the ads here: