David Bussell / Rex Features
Some travellers leave a tip after staying in a hotel room -- David Bussell chooses to leave graffiti.
What started as a passive-aggressive complaint over a broken television evolved into a seven-year tradition of doodles, scrawls and dry, leaving behind British wit in places hotel guests -- and staff -- would least expect to find them.
"I tend to just write whatever seems funny in the moment but certain objects have been known to inspire ideas: bathroom fittings, kitchen appliances, Gideon's bibles," Bussell told Business Insider. "Mostly I just write in places that will only be searched out by the extremely curious though -- nosey people like me."
The British comedian and graffiti artist says he's left his mark on every hotel room he's stayed in since 2006 and to his credit, claims he's never been caught.
'I've never had a hotel complain. I never leave something on show that won't rub right off, and the stuff that's hidden just stays that way, I guess," the 37 year old said in an interview with the Daily Mail.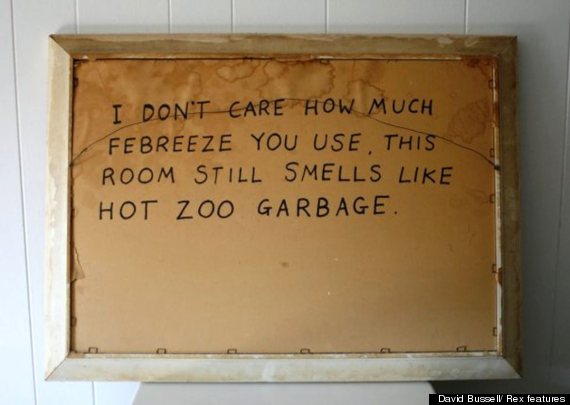 The idea began with a mixture of boredom, childhood nostalgia and some inspiration he found during a trip to France in the '90s. It was during a trip to Paris that Bussell discovered a tacky painting travellers had used as a secret bulletin board. That got him thinking about when his parents would let me draw on the walls as a kid before redecorating the house.
"I was fascinated by the idea of the next tenant stripping it off one day and seeing the pictures I'd left them. Similarly I love the idea of people discovering the messages I write in hotel rooms and wondering about the person who left them."
Travellers and hotel workers have reported Bussell's graffiti showing up in parts of the United Kingdom, Northern Ireland, Cuba, Berlin and "all over British Columbia and the United States" according to the Daily Telegraph.
The graffiti ranges from crude bathroom humour (some literally take place in the bathroom) to cheeky reviews of hotel rooms to questionable pieces of advice. But whether travellers find his work funny isn't the point -- finding them that what matters, Bussell told MSN Travel UK.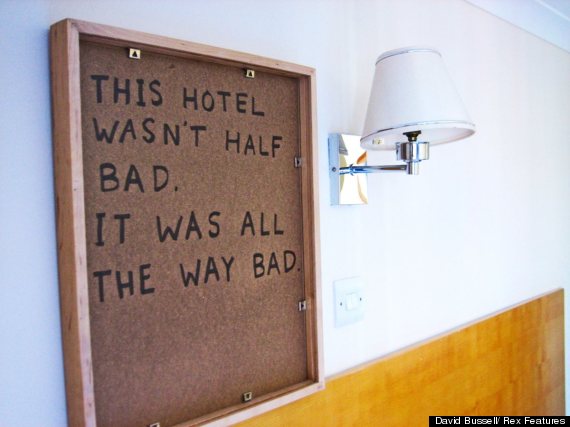 "Nothing would make me happier than someone sending me a photo of one of my pieces they found by accident, unless it's the hotel management that is, in which case I'd better hope I paid by cash and didn't leave them a deposit on my credit card."
To see more of his graffiti, check out the gallery below. What do you make of his work? Funny or a waste of ink? Let us know in the comments below or on Twitter @HPCaTravel
David Bussell's Hotel Graffiti