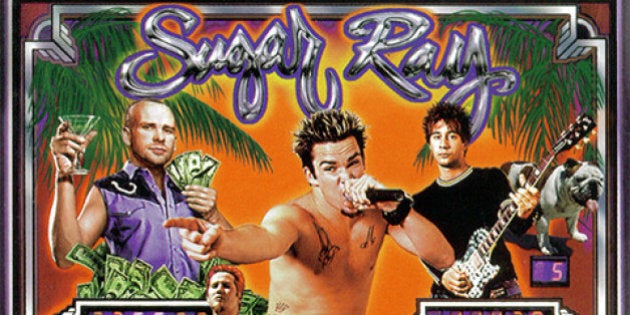 With practically every month now marking the 20th anniversary of yet another "classic" alternative era album -- "In Utero" is next up to bat -- '90s nostalgia is, shall we say, in bloom.
But not every band from back then were iconic rule breakers a la Nirvana, Smashing Pumpkins or Blur. And the decade's lesser lights are now rearing their frosted-tipped heads for one more kick at the can, too.
This summer the Goo Goo Dolls and Matchbox 20 hit the road as part of a joint summer tour. So has Under the Sun, a summer-long, alt-rock lite package tour featuring Sugar Ray, Smash Mouth, Gin Blossoms, Vertical Horizon and Fastball (the lineup is a holdover from the failed Mark McGrath and Friends Cruise). These bands, radio and sales heavies from the mid-to late-'90s, join a wave of acts like Soundgarden, Blink-182, The Breeders and No Doubt heading back to stoke the fires of their heydays.
While it's doubtful Sugar Ray singer Mark McGrath will be cited as an influence for anything outside of his work as a celebrity talking head, it doesn't change the fact that these groups enjoyed enormous success during their primes. Back then, their presence was far more ubiquitous than many of the cooler bands currently being name-checked.
When we remember decades, we tend to view them with rose-coloured glasses, which is why we forget that in 1993, "Pocketful of Kryptonite" by the Spin Doctors, who are also on tour this summer, handily outsold Nirvana's "In Utero." (Oh, and Kenny G's "Breathless" sold more than both combined!)
Yes, the '90s were a heady time when even the most drugged-out, crazy underground acts could score major label deals and hit songs. But unless you lived in a major city or a town with a good college radio station, much of what made the '90s so musically interesting and adventurous likely passed you by.
Nineties rock radio was a much more diverse space than it is today. But for every song from artists like Beck and Bjork listeners had to endure something like five songs from the likes of Live, Collective Soul and Hootie and the Blowfish. Radio spun their songs, MuchMusic played their videos and it wasn't because of some corporate conglomerate conspiracy -- people loved these bands and lined up in droves to buy their CDs. Matchbox 20's debut album, "Yourself or Someone Like You," sold 12 million copies.
Story continues below slideshow
This was the last generation of rock bands to enjoy fame and fortune unfettered from piracy and the rise-fast-fall-young Internet hype machine. The music press (and fans, both gens X and Y) will banish them to the dustbin of music history. But they were there, "stealing" valuable airspace and ink from the rock bands we'd like to pretend dominated the entire 90s.
Yet for all the nostalgia for alt-rock's halcyon days, it wasn't until 2011 that Rolling Stone bothered to throw an indie act on the cover of their magazine (Saskatoon's own Choose the Cover contest winners, The Sheepdogs), having escaped the century's last decade without deigning to address one of music's dominant cultural forces.
Deleting the unfortunate and uncomfortable past is a common occurrence in music; we fetishize the late-'60s for the forward-looking music that was produced while casually ignoring the fact that "Sugar, Sugar" by the Archies was the number one song of 1969. And in doing so, we deny ourselves the chance to better understand the music we (rightly) deify.
Music is a conversation between artists and eras and, more often than not, that conversation is actually an argument. A passing familiarity with the crass, sexist hair metal of the '80s is key to grasping the significance of Nirvana and the indie aesthetic's ascendance into the mainstream.
Similarly, the appearance of the White Stripes and Modest Mouse on FM airwaves in the early 2000s was a triumph over late-90s nu-metal and the washed-out alternative that the Under the Sun tour celebrates. Musical movements occur in reaction to, not in tandem with, current trends. It's no coincidence that as bookish indie rock was popping up on every other commercial and film soundtrack, EDM's blunted bass drops returned to beat it back to the library.
To the vast majority of people, this is a non-issue. Fans attend shows like these looking for nostalgia -- they grew up listening to these bands and they want to re-experience a piece of that. There's nothing wrong with that desire -- it's the same concept that drives reunion tours from the Pixies to Pavement. And divorced from their ubiquity in the late-90s, I think we can admit that most of the bands mentioned here wrote at least one ridiculously catchy song that, if given the right situation (say, a few drinks), we'd be more than willing to belt out at that the top of our lungs.
Critical disregard for the embarrassing past won't stop the nostalgia train. There's probably an argument to be made that Sugar Ray's place as a critical pariahs only emboldens the fans that will come out to see them. And if it undermines our understanding of the music we love, why do we continue to do it?
There needs to be an open and honest discussion about the appallingly popular and appalling bad musical past. The history of music is a series of peaks and troughs, one can't exist without the other. Nirvana gets credited with killing off hair metal, but without it Nirvana wouldn't carry the cultural weight we've ascribed to them. Understanding hair metal makes it easier to understand why Nirvana was such a big deal.
The mid-to-late-90s alt-rock hangover was a serious trough. But it was this bottoming out of the underground that was the first crucial step towards this past decade's Triumph of Indie Rock narrative. In other words, we need to stop with the selective memory and remember the bad so we can properly appreciate the good.