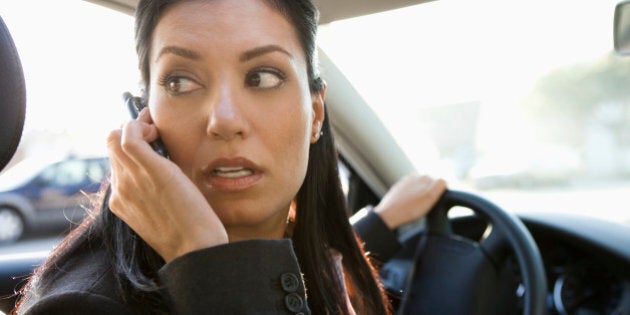 Wilma Ealy lost "every bit of skin, muscle and tissue" on her legs from the waist down when a distracted driver smashed into her while she was standing on the edge of a Florida highway.
"She basically had half a body left," said Jeanne Zoschke, her stepdaughter who lives in Nanaimo, B.C. "My mom got hooked on the bumper and dragged down the interstate 100 feet."
The 20-year-old driver had dropped her coffee into the passenger footwell, reached over to grab it and accidentally veered her car across four lanes of highway, pinning Ealy to her parked car. She had stopped to clean up a puking five-year-old granddaughter.
That was 10 years ago. Distracted driving wasn't an issue back then. And Zoschke didn't think of it as a larger problem, as she does now thanks to the new laws banning the use of cellphones while driving and the related ad campaigns.
But despite these campaigns, fatal collisions caused by distracted drivers have risen by 17 per cent in Canada over the past, most recent five-year period, from 302 deaths to 352, according to data from Transport Canada's National Collision Database for the years 2006 to 2010.
What's more, these figures don't cover all jurisdictions and may understate the problem by as much as a third, according to those who study these statistics.
Studies estimate that distracted driving accounts for 30 to 80 per cent of collisions — and cellphone use is widely accepted as an important contributor.
"Distracted driving has always a major factor in collisions, but it's been a result of electronic technology that has really brought it to the forefront," said Ontario Provincial Police Sgt. Pierre Chamberland.
Distractions top impaired driving in three provinces
In Nova Scotia, the RCMP recently revealed that distracted driving this summer, the busiest time for accidents, surpassed impaired driving as the No. 1 cause of deaths. Earlier this year, Saskatchewan's public insurance bureau noted the same.
- Distracted drivers now No.1 cause of fatal crashes in N.S.
- Saskatchewan's deadliest year puts focus on distracted driving
For years now, distracted driving has surpassed drinking and driving as one of the top causes of collisions in Ontario, where it is consistently blamed for 30 per cent of highway accidents. (Speeding is the No. 1 killer in Ontario.)
Last week, a mini-documentary by famed filmmaker Werner Herzog made the social media rounds and specifically took aim at texting behind the wheel.
The film, which is funded by U.S. telecoms, documents heartbreaking stories of loss from both the perspective of the person texting and the victim's family.
It's one of numerous educational campaigns popping up across North America to tackle what former U.S. transportation secretary Ray LaHood called an "epidemic" of distraction.
Some ads use humour to get the difficult message out. An Alberta government campaign earlier this year involved a series of "Crotches Kill" posters showing smiling drivers staring into their laps, their faces illuminated by the blue glow of their cellphones.
"We know what you're doing down there," the poster says.
The Canadian Automobile Association takes a different tack in its Ontario-only campaign — broadening the focus beyond cellphones and focusing on the potential loss of life. In one ad, a daughter waits in vain for her father to arrive at a dance recital.
"The campaign is saying it's not just about technology," said Teresa DiFelice, the director of communications for the CAA's South Central Ontario chapter.
"Reaching over for something, putting on makeup, shaving, reading the newspaper, trying to reach for things for a child: these are all forms of distraction."
It's hard to know how many people die because of drivers on their cellphones.
Those incidents get swept up into the broad police reporting category of distracted driving in those jurisdictions that distinguish it from the other top killers, speed and impaired driving.
Distracted driving can include everything from eating a take-out burger to a dog jumping around the vehicle.
Determining that a crash is caused by distraction, however, is also imperfect.
As an example, retired Surrey, B.C., firefighter Tim Baillie points to one of the worst crashes he's ever encountered.
Three young people driving down a straight stretch of road suddenly hit the ditch and their car skidded along the edge until it slammed into a driveway. Their bodies flew out of the vehicle, landing almost 30 metres away.
"There was no reason why this vehicle should've gone off the road," said the 27-year firefighter veteran.
"Can you say that was a distracted driver? You can't prove it, just like an awful lot of the stats that deal with distracted driving."
Teens not the only problem
Baillie is part of a B.C. grassroots group, Drop It and Drive, which visits schools to teach students about the dangers of distracted driving.
Founder Karen Bowman hopes that tackling teens directly will help prevent bad habits before they start.
"Unlike drinking and driving, perhaps distracted driving won't take a full generation to become socially unacceptable," she says.
Increasingly, however, Bowman's group gets calls from corporate clients, from oilsands truckers to quarry drivers.
"Teens get labelled, you're the texting generation so you must be the worst offenders on the road, when the research actually shows those who are texting and driving more often are established experienced drivers," said Bowman.
Students often tell Bowman stories of their parents multi-tasking behind the wheel. She's started advising them on how to talk to their parents about the potentially deadly habit.
Since 2008, every province and territory in Canada — with the exception of Nunavut — has created laws to deal directly with cellphone use by drivers.
Fines range from a low of $100 in the Northwest Territories and Newfoundland and Labrador to a high of $280 in Saskatchewan. In some provinces, fines rise with the number of offences.
Alberta stands out as the only region where reading, writing, hygiene and other activities are written into the legislation — broadening it beyond the current push against electronic devices.
While some worry that driving and texting legislation helps create a nanny state, and say common sense should persevere, others complain the new fines should be raised to address the true severity of society's addiction to connection.
"You pick up bodies for 27 years, it pisses you off," said Baillie, the retired firefighter. "Ever since those damned things came in, there's been distractions. It's getting worse and worse and worse."