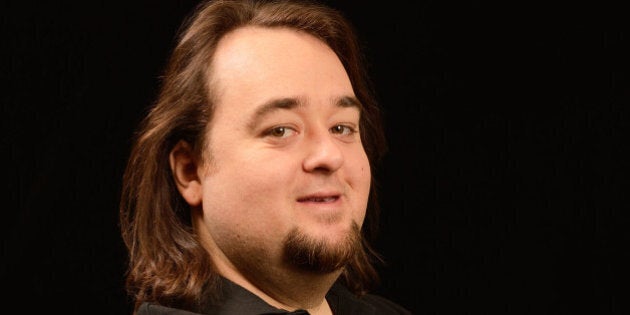 One man's junk is another man's treasure. That's certainly true on the smash reality series "Pawn Stars," where people venture into Las Vegas' Gold and Silver Pawn Shop to sell their bizarre and unbelievably cool possessions for big bucks. There is plenty of wheeling and dealing, but the show's main attraction is the guys running the establishment.
The entertaining staff -- which includes owner Rick Harrison, his son Corey, his father Richard [a.k.a. "The Old Man"] and Corey's childhood pal, Austin "Chumlee" Russell -- regularly quip and deliver brief history lessons on each item.
Chumlee is attending the Toronto Fan Expo over the next four days and spoke to HuffPost TV about the banter, loving his job and supposedly being dead.
HuffPost TV: For people coming into your store, is "Pawn Stars" an accurate depiction of what goes down, or is it all in the editing?
Chumlee Russell: It's an accurate depiction of what happens. At the same time, we're a tourist destination with 5000 people a day. For you to come into an empty store and walk right up to the counter ... It doesn't exactly go down like that. It's fairly accurate and it's a pretty good picture of what goes on in a pawn shop.
Are the transactions usually quick and painless or are they a long process?
The average transaction is not on television. It's usually quick and painless, but there are several that are long and strenuous and require a lot of attention. If it's a gold necklace, that's easy. They want a certain amount of money, I'm going to offer some money, we might argue for a minute and then you can either take it or leave it. JFK's cigar box ... now that's a little different.
You guys are fountains of knowledge. What is your area of expertise?
That's easy. [Michael] Jordan and video games.
When people walk through your doors, which items get you the most excited?
My favourite thing to see is championship memorabilia like Super Bowl rings, Heavyweight Championship belts and Olympic gold medals. It's crazy that someone would work their whole life for something like that and it could come down to the point where they need the money, so they had to sell it and eventually it ends up in our pawn shop.
Have you ever been way off-base where you tremendously overpaid for an object?
Yeah, we purchased a Shoeless Joe Jackson book. We spent around $10,000 on it. We sent it in to get graded because it was going to be worth about $20,000, except it was a fake. It wasn't his autograph and we just couldn't get any money for it.
What about the reverse, where you've purchased something and it's worth far more than you anticipated? You always hear stories of someone buying a picture or article at a garage sale for cheap and its value is $50,000.
It's happened. I can't think of anything off the top of my head because we're pretty knowledgeable and Rick is a pretty fair guy. For example, I know we had Fabergé jewelry. The lady wanted a couple of thousand dollars for it and Rick ended up paying maybe $10,000 - $20,000 because that's what it was worth. He wants to do good business. Imagine she sells it for $2000, comes back to our store a year later and sees it selling for $20,000. She's never going to do business with us again and she's going to tell all her friends that we're horrible people. We try and give fair prices and pay you a good value for what it's worth.
Have you ever had any irate patrons?
Oh, we get angry patrons every day. We can't make everyone happy. We've even had a few people [come across] mean on TV, but most of the time if someone gets upset with what we say, they still remain pretty calm because they know they're going to be on TV and don't want to look like a crazy guy.
What kooky or unique items have come into the store lately?
We had some crazy tonsil remover from ancient times. This quackery medicine is really crazy. We have a UV light that can fix anything from cancer to a stomachache, if you can believe that.
Actor Steve Carell pays a visit in next week's episode. Was he there as a fan or a customer?
He was in Las Vegas doing some promotional work for his new movie. You have to watch and see what he does. I don't want to give it away because it hasn't aired here in Canada yet. Needless to say, we had a good time with him and he's a really fun guy.
Your interactions with The Old Man are hilarious. Why does he bust your balls so much?
That's just him. He's a grumpy old man who likes to mess with me. I'm his whipping boy.
You're attending the Toronto Fan Expo starting today. Can you preview your involvement at the event?
I have never been to a Fan Expo. I imagine people are going to bring some things for me to appraise. The funny thing is we do a lot of events at casinos and someone will come in and go, "I don't understand why they won't let me bring my gun in here." We'll see what Fan Expo has to bring. I'm expecting some Nikes to come out. Everyone knows I want those Jordans. I brought cash, so bring them out.
What's the secret to haggling a good price with you?
Knowing what you want and then knowing what you have. If you leave it up to me, I'm spending Rick's money. At the end of the day, Rick is going to be a lot nicer than I am with his money because he's more comfortable spending it. I have to keep my job, so I am going to try and get the item for as cheap as I can. If you know what you have, you know what it's worth and you know what you're willing to accept for it, it will make our negotiations a lot easier.
"Pawn Stars" is a hugely popular reality series. Do you feel you've really made it when someone decides to make you the subject of a death hoax?
You know what's funny is they just tweeted me about it again last night. I'm not dead. I'm alive and kicking. History [Channel] actually asked me if I could send them a video telling everybody I'm alive because they had so many people hitting them up about it. I had to make a little three-second video on my phone. "I'm alive!"