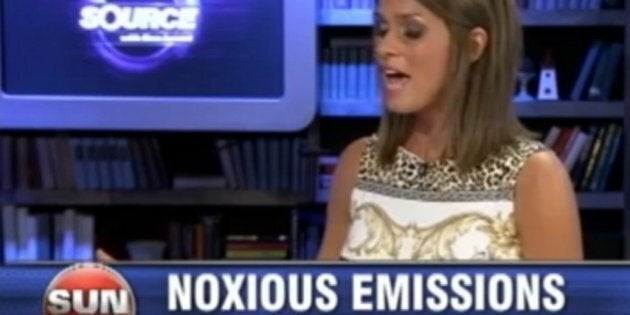 Plenty of Canadians dislike Sun News, but one pipeline protester may have gone too far in registering his objections to the network's editorial slant.
Sun News reporter Faith Goldy says she was in a Hamilton, Ont., courtroom, covering the trial of 13 people who were arrested in June protesting the planned reversal of Enbridge's Line 9 oil pipeline, when she got some noxious feedback from a supporter of the defendants.
The protester had apparently passed gas in Goldy's face.
"And all of the other Line 9 protesters had their faces in their shirts, laughing," she added.
Immature pranks aside, there are serious issues involved in the protests.
Enbridge's line 9 pipeline is part of the Canadian oil industry's push to reverse the flow of oil and send it to ports on the east coast, a reaction to fears the U.S. won't approve the Keystone Xl pipeline.
The company's plan would see oil flow through the existing Line 9 pipeline from Sarnia, across southern Ontario and the Greater Toronto Area to Montreal, then from there to Portland, Maine, where it can be loaded onto tankers.
The National Energy Board last year approved the reversal for the stretch from Sarnia to Hamilton. But opponents of the project say there is a risk of a pipeline rupture as the line begins to carry heavier crude from the Alberta oil sands, and they are fighting further approvals of the line reversal.
Enbridge argues the concerns are unfounded, because the oil carried through Line 9 will be processed, and will continue to be light crude.
Opponents of the project also took issue with the process for submitting comments to the National Energy Board about the project.
People who wanted to comment on Line 9 had to fill out a 10-page questionnaire that asked for a resume and references, environmental groups said.
Hamilton police arrested 13 anti-Line 9 protesters were in June, after Enbridge got a court injunction to remove the protesters from one of its pumping stations. The protesters were charged with trespassing, and several of them also face charges of mischief and breaking and entering.
The NEB will be holding hearings on Line 9 from Aug. 26 to Aug. 30.