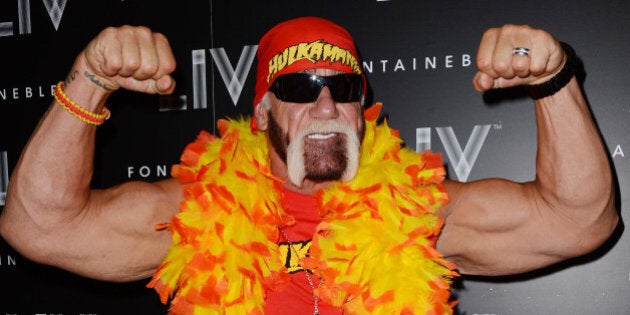 Toronto Mayor Rob Ford will be facing-off against wrestling great Hulk Hogan at Fan Expo on Friday morning. Ford and Hogan will hold a "friendly arm-wrestling competition" at the annual sci-fi event, said a press release.
Ford also better watch out for shifty managers who want to bash him with a metal chair and unscrupulous sidekicks who will pin him to the ropes. So how will this match-up play out? We're all well aware of Rob Ford's recent exploits (battling fish, walking on the Danforth, etc.), so we present you some of Hulk Hogan's finest moments. You decide if Hulkamania will be able to body slam Ford Nation.
Hulk Hogan Entrance Music
We really hope that tomorrow's events includes entrance music.
Hulk Hogan vs. Andre the Giant: Wrestlemania 3, 1987
Hogan has faced big men before and none come bigger than Andre the Giant!
Hulk Hogan's Interview Skills
Unlike Ford, Hogan knows the value of a good, lengthy interview. Witness this classic bit of trash-talking before Wrestlemania VI, held in Toronto.
Here's what Twitter had to say to the Rob Ford vs. Hulk Hogan battle royale.