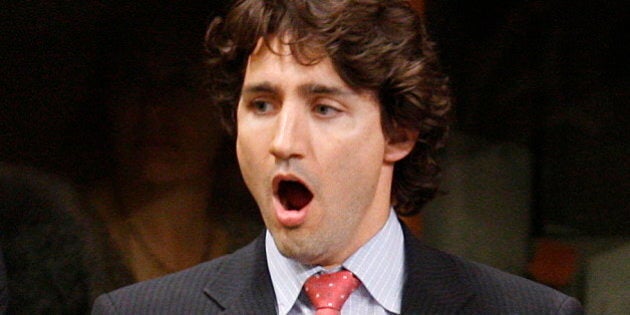 Liberal Leader Justin Trudeau doesn't drink coffee. And that revelation may have put a Canadian spin on the "who'd you like to have a beer with" question.
HuffPost Canada's Althia Raj reported that the Liberal leader admitted to using marijuana since becoming an MP, also detailing his past experiences with illegal drugs and how he came to support the legalization of pot, even if it left him open to attacks from the Conservatives.
But it was the coffee admission that some zeroed in on. In the interview, Trudeau said drugs were never his thing.
"I never smoked a cigarette in my life, I don't drink coffee." he told Raj. "I don't drink a lot."
Trudeau said his friends used to tease him about not smoking and now they are all trying to quit.
There is one coffee drinker in his household, his wife Sophie Gregoire. "Sophie thinks I'm crazy 'cause she can't function without coffee," he said, smiling.
That prompted this awesome response from columnist Andrew Coyne and sparked questions on whether Trudeau can address the concerns of the nation as leader.
And Coyne isn't alone, in this nation of Tim Hortons drinkers.
"Oh no. This poses a serious challenge to my distaste for Trudeau becoming Liberal leader. Non-coffee drinkers must stick together," wrote Donald Main.
Trudeau addressed the "controversy" Thursday morning.
See other hilarious reactions in the slideshow below.