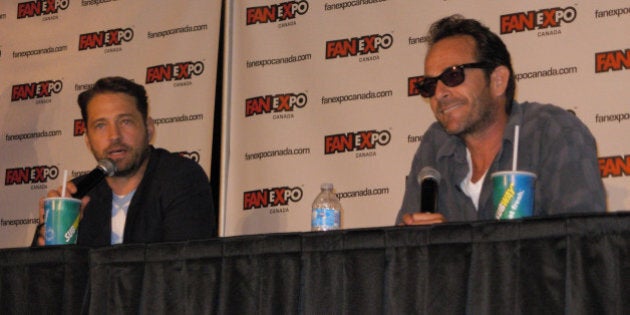 Toronto's Fan Expo has returned for another year to celebrate glorious fandom in all its forms. In 2013, comics, horror, gaming, scifi and anime have been joined by sports, the latest genre to be tackled by the Expo. As a result, the festival has expanded to include all 720,000 square feet in both the north and south buildings of the Metro Toronto Convention Centre. With over 100,000 people expected over the course of the four-day fanstravaganza (Aug. 22 - 25) and more ground to cover than ever before, fans of all genres had their work cut out for them, as some of the biggest names on the guest list kicked things off.
Thursday saw fans welcome the nightmare of the godfather of shock rock, Alice Cooper, which is a name he says came from contemplating a nice little old lady who lived down the block. "I thought, What name would piss off every parent in America if you look like us and you're going to do what we're going to do? I picked the nicest little old lady name I could think of."
He then told the real story behind the notorious "Chicken Incident" that took place at the Rock 'n' Roll Revival Festival at Toronto's Varsity Stadium in 1969, in which a live chicken was thrown on stage amidst the feathers that were already being blown about. Thinking it could fly, Alice threw it back into the audience where it was savagely torn to shreds. No one knew who threw it on stage until Alice's manager of 45 years, Shep Gordon, finally came clean.
"He admitted it long after that," said Cooper. "But, at the time, I'm sitting there going, who brings a chicken to a concert anyway? 'I got my keys, I got my drugs, I got my chicken -- I'm ready to go.' It was just there and I would've known if we were going to do a chicken because I would've thought of it. They don't fly as much as they plummet. But the bizarre part of that was, the first five rows were all people in wheelchairs, so they're the ones that killed the chicken."
Stan Lee: Marriage Counsellor
At 90 years old, Stan Lee has told his creation stories of Marvel superheroes like Spider-man, Iron Man and The Fantastic Four, so often that even he can't remember if it actually happened the way he tells them. But, what we don't hear about very often is his home life, beneath all the schtick and one-liners. Well, those at his Q&A got a rare glimpse into that side of his life when one fan asked what was the longevity secret to Stan's marriage to his wife Joan.
"I go to these conventions and I'm treated like a rock star. But I go home, after all this, and what does my wife say when I walk in? 'You better take out the garbage." Stan knows the consequences if he doesn't vividly:
"Years ago, I wrote all these stories: The X-Men, The Fantastic Four, The Incredible Hulk and so forth, on what they called a Remington Noiseless Portable Typewriter. One day, Joanie and I were having an argument -- she's Irish and has a hot temper -- and to prove that I was wrong, she took this typewriter and smashed it on the floor and it broke into a million pieces."
But, after 66 years of wedded bliss, Stan didn't get mad, he got even. "I said to her the other day, 'Do you know what we could auction off that typewriter for now and all the things I could've bought you with that money, which you didn't get because you broke the typewriter?' I've had my revenge."
Friday, things got a little more serious. Between the giggles and goofs of their on stage reunion, Jason Priestley and Luke Perry revealed that they made a pact from the very beginning, so that the fame they received when they rocketed to superstardom as Brandon and Dylan on "Beverly Hills, 90210" wouldn't go to their heads.
"We got real famous, real fast -- that's why we had to talk about it because it was freaking out everyone else around us: the people that worked for us and the people who worked for the network. They had never been involved in anything like it, we had never been involved in anything like it and we were able to look and see how it was changing a lot of people. They would start to behave differently and how they related to other people would become different. We looked at each other and said, 'Let's not by into this shit, man. Let's just keep going to work and not worry about any of this,' and we've pretty much stuck to that. We'd never been competitive about who gets to do what," says Perry.
"That was the pact," adds Priestley. "What came first was the work and if we took care of the work, we knew everything else would take care of itself."
Capping off Fan Expo's first two days, both of the original "Star Trek"'s most legendary minority ground breakers dropped some serious wisdom on the Trekkies who came to see them. George Takei, the first Asian-American actor to have a substantially intellectual role on TV was joined by co-star Nichelle Nichols, the first African-American woman to do the same.
Takei went first, revealing that his uber-popular presence on social media began as an intricate plan to slowly promote his upcoming Broadway musical 'Allegiance' -- a chronicling of the internment of Japanese Americans during WWII, which is something Takei and his family experienced firsthand when he was three years old.
"We discovered that the internment story was not too well-known by otherwise well-informed people, so we needed to develop a higher level of awareness among our potential audience. I thought the best way to do that would be through social media."
But his fan base were sci-fi fans, so he started by jokingly mocking science and science-fiction, then he moved into jokes around civil rights issues, like marriage equality and then he started to drop in some history about Japanese internment through Easter eggs from the musical.
"Now we not only have people who are aware of Japanese internment, but are excited, enthusiastic and eager audiences for the musical we've developed."