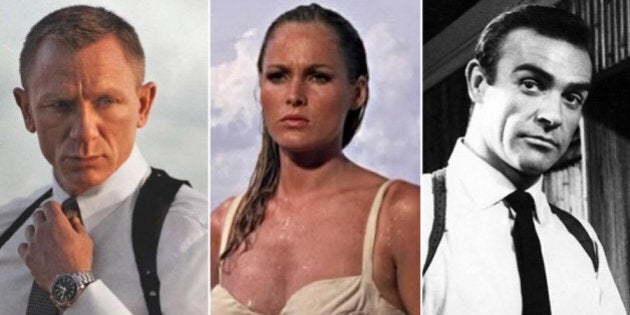 James Bond's licence to kill isn't expiring any time soon, but at 50 years old, it's certainly ripe for a retrospective.
And that's just what's happening at Vancouver's Vancity Theatre, with movies, memorabilia and even a 007 quiz night.
"007 Reloaded: Bond vs. Bond" is screening 20 films that demonstrate how the world's most famous secret agent has evolved from Sean Connery's suave, intelligent spy in "Dr. No" and "Goldfinger" to Daniel Craig's brutish persona in "Casino Royale" and "Skyfall."
The exhibit comes courtesy of Murray Gillespie, a Vancouver-based Bond buff who owns a swath of 007 souvenirs, including posters, Ian Fleming novels and music from every single film in the franchise.
"I thought it would be great for people to be able to see that visual Bond on the big screen, and then be surrounded by a retrospective showing the evolution of the artwork of the posters," he told The Huffington Post B.C.
Ottawa-raised Gillespie stops short of saying he has Canada's biggest Bond collection, but he's quite certain he has more posters than anyone else in the country. He rents out his vintage collection for parties through his company Bond Decor and Design.
He began collecting Bond memorabilia during his teenage years in Ottawa. While his friends were hoarding Chewbacca and stormtrooper figures, he was bugging movie theatres about how he could get hold of posters for himself.
But it was at 18, when he saw a 25th Bond Anniversary exhibit at New York's Museum of Modern Art, that he decided he wanted to amass an impressive collection that he could put on display.
"It really solidified my love of the franchise," he recalls.
"I thought, '25 years from now, I want to have a collection that I can display', and sure enough, 25 years later, it's coming true."
Check out Murray Gillespie's James Bond collection. The story continues below the slideshow.

James Bond Collection By Bond Decor and Design
As well as the Bond Quiz Night on Aug. 31 led by Gillespie himself, on Aug. 30, "007 Reloaded" will host James Bond Ph.D, where UBC film professors Ernest Mathijs and Michael van den Bos will bring an academic perspective to the spy's status as a cultural icon.
"Every single episode, if you want, has something that identifies it as typical of that time," Mathijs told The Huffington Post B.C., adding that 1973's "Live And Let Die" had clear references to the blaxploitation era of the 1970s, and that 1979's "Moonraker" was obviously produced by people who'd seen "Star Wars."
"In the early movies, it was clear from the beginning who were the bad guys and the good guys," he notes.
"In the more recent articulations, that's become more complex, and I think that's a reflection on the world, it's not easy to separate the good guys from the bad guys anymore."