Nenshi.ca
There's no doubt that Calgary's Mayor Naheed Nenshi is a popular guy across Canada.
Whether it was praise for his cool-headed handling of Calgary's June flood or occasional cheeky remarks on Twitter, the man has been the inspiration for t-shirt designers several times.
Most recently, Nenshi t-shirts created by a local designer were released as part of his upcoming election campaign.
Each donation of $25 to the campaign can choose from one of four shirt designs, which include a "Nenshi - My City, My Mayor!" and "VOTE" with Nenshi's face standing in as the "O."
"I still don't get why people want my face on their bodies," said the mayor on Twitter when talking about the shirts, adding all four shirts are "neck-and-neck" in popularity.
This isn't the first time Nenshi's face has adorned the front of a cotton shirt. Numerous designs were created to fundraise for Alberta flood relief in June, including "Keep Calm and Nenshi On," and a popular T-shirt with Nenshi donning scuba gear.
Here's a look at some of the Nenshi T-shirt designs created:
Campaign Shirts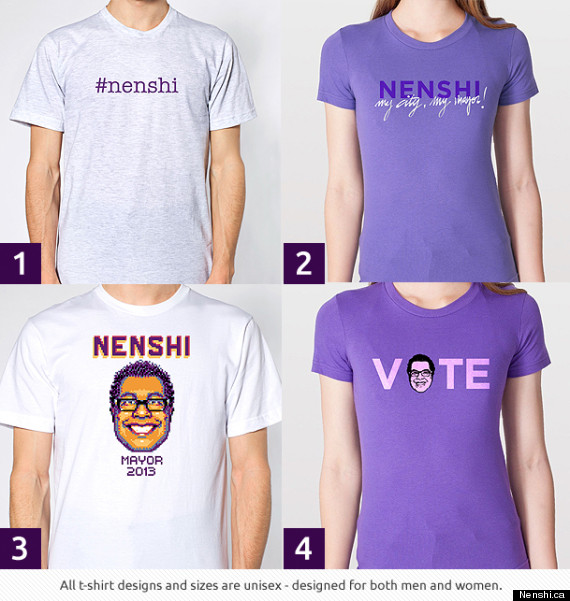 Scuba Nenshi Shirts For Flood Relief
Calgary!! It's ok! This guys got us! @nenshi rising our city. Prepared. #badportraits#yycfloodpic.twitter.com/1UlGwcyjXT

— Bad Portraits (@BadPortraits) June 22, 2013
Keep Calm and Nenshi On Shirts For Flood Relief
.@FM_YYC & the awesome @nenshi shirt they've so far raised $1600 for #yycflood relief selling http://t.co/OLJvb8gHqPpic.twitter.com/ICuZle4TNS

— Gian-Carlo Carra (@gccarra) July 6, 2013
Nenvy Shirts
A real #nenshinoun has arisen: Nenvy @nenshi this shirt definitely needs to be in your collection #yycpic.twitter.com/rDxwg2PEfg

— Crackmacs (@Crackmacs) July 1, 2013
Here's a look at some of the mayor's funniest tweets:
Also on HuffPost