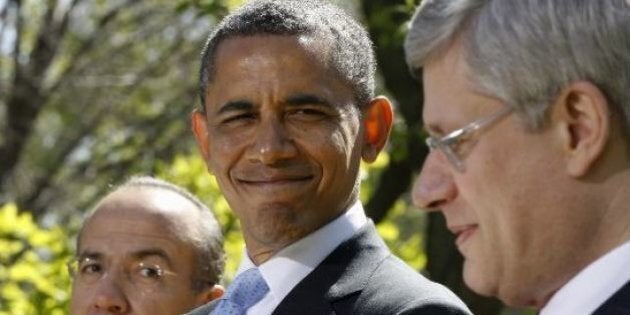 The strained relationship between Canada and the United States over energy policy is likely to get worse before it gets better, with a decision on Keystone XL likely to politically strain relations between the two countries regardless of whether U.S. President Barack Obama gives the pipeline project the go-ahead or not.
That's one of several findings by pollster Nick Nanos in a study he did as a Public Policy Scholar this year for the Woodrow Wilson International Center for Scholars. His research focused on public opinion and public policy regarding energy and the environment.
"We are desperately in need of a forthright dialogue between Canada and the United States in terms of carbon policy and the environment," said Nanos in an interview from Washington, D.C.
Canada's seeming inability to seal the pipeline project, which is the centrepiece of Prime Minister Stephen Harper's resource-driven agenda, could be the impetus to kick-start talks on environmental policy and energy, something Obama has focused on in his public statements on Keystone.
"My sense is that the one way things might change is if there's a crisis. And the Keystone decision could be a flashpoint to bring Canada and the U.S. together to try to work out a carbon policy," said Nanos.
"And that could happen whether aproved of rejected. If rejected, there will be pressure on the Harper government to start to engage Americans in a real dialogue on the environment and Canada's role as an energy partner. If approved, there will be massive pressure on Obama to engage Canada to meet environmental standards that are acceptable to Americans."
Nanos's study, which was comprised of original public opinion research and in-depth interviews over several months with key stakeholders and advocay groups in the United States, also found that the majority of Americans support approval of the Keystone XL pipeline, if accepatable environmental standards are met.
Just what those standards are remains up in the air.
"When we look at the polling data, people are fairly agnostic in terms of the energy sources as long as they meet an environmental standard," said Nanos. "The challenge is what is that standard?"
A grid-locked Congress and growing access to shale gas deposits in the United States also makes the approval of the project less of a priority as well.
Don't pick winners and losers
According to Nanos's study, Canada has failed to highlight to Americans the diversity of our energy offerings, with too much of a focus on oilsands products at the expense of showcasing hydro and renewable sources. "Americans think Canada is a one-trick pony," explained Nanos. "But reality is we are a much more diversified energy partner than Americans perceive."
He says Canada should focus on encouraging investment across various energy technologies in order to foster healthy competition within a variety of energy sectors.
As well, a lack of leadership at the national levels within both countries has encouraged regional alternatives where deals are moving forward, such as the effort to move bitumen from West to East in a pipeline deal that would see oilsand products refined in Saint John, New Brunswick.