Remember how fun it was to stock up on school supplies when September hit? We'd cram our backpacks full of pencils, erasers, notebooks and brand-new stuff that we couldn't wait to show off and the excitement of breaking in our new gear was even enough to ease the sting of that first homework assignment. Those feelings haven't changed, but the school supplies sure have -- here's a look at six classic items that have been updated to fit the times.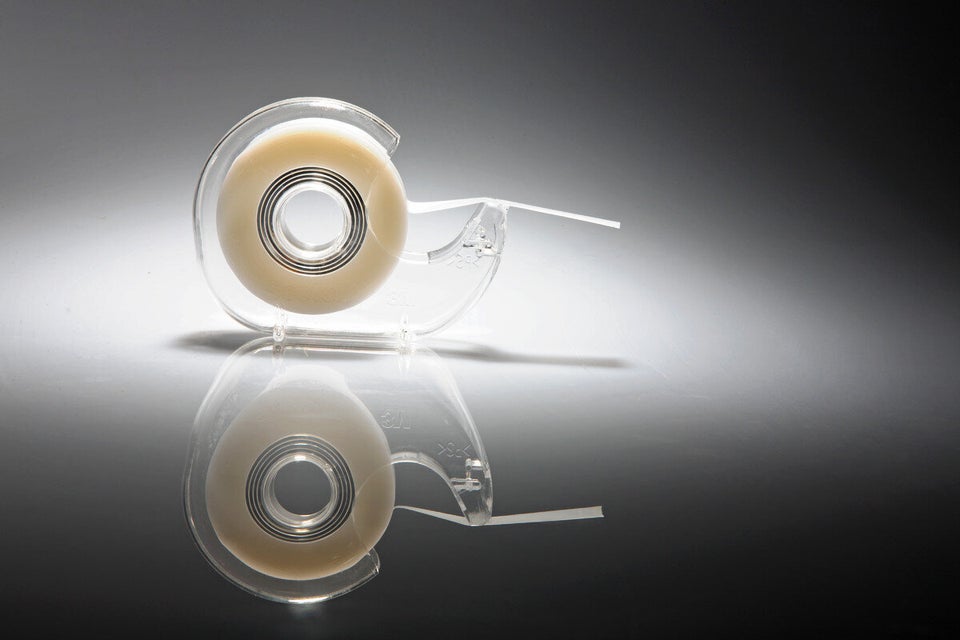 Essential School Items: Then And Now
Back in the day, we all carried around the same green-and-black package of clear Scotch tape that we used for, well, pretty much everything from posters and homework assignments to fixing our clothing and so on.
Classic clear tape has been replaced with fun and funky coloured tape that kids can use for more than just quick fixes. From dressing up a poster they've made, to decorating their locker, multi-coloured tape is a great way to customize things in a hurry. Even classic duct tape has taken on vibrant hues like red, yellow, and purple.
When we were growing up, if you wanted a little excitement in your markers you looked to none other than your good friend Mr. Sketch. Mr. Sketch markers were fun and smelled great, but didn't offer much in the way of color variation coming in only 12 shades.
Markers these days are awesome -- for instance, glitter or neon markers give projects a bit more punch than the boring colours we were used to. They also come in a crazy number of shades, so you're never compromising on hue. In fact, Crayola even makes multi-cultural skin tone markers that offer the perfect shade for portraits.
Crayons have long been a staple in the desks and backpacks of children -- and while most kids carted around the standard 24-pack, the luckiest ones had a fancy carton of 64 shades to choose from.
Gone are the days of sucking up to the classmate with the biggest crayon pack so you could borrow the magenta. Crayola's Pick-your-Pack crayons allow you build your own massive crayon collection with the colours you want. They have a huge range of theme sets that kids can choose from, such as 'Glitterati', 'Dinosaur Roar' and 'Pink Princess'.
When it came to hauling around your books, there weren't a lot of options. Back in the day, backpacks were pretty basic with two pockets and two straps. If you were lucky, you could choose a wild colour like red, but most kids rocked the standard black knapsack.
Backpacks these days aren't just for carrying around your books -- they're fashion accessories. Loads of patterns, designs and colours are available and the packs themselves are more practical with lots of small pockets for all your different school supplies and plenty of padding to protect your electronics. You don't even need to carry them on your shoulders anymore; wheelie packs are available to help save your back.
Trusty, practical and effective, the notebook served the noble purpose of storing our ideas and helping us work out complex math problems. You had your choice of mostly primary colours, ruled paper or blank, spiral or bound - they weren't fancy, but they worked.
Even in the age of the iPad there's still no substitute for a notebook when paired with a pencil or pen. As effective as ever, not a whole lot has changed on the inside, but on the outside choices are plenty for students wanting to express their personal style through creative covers. Vibrant colours and funky patterns haven't changed the trusty notebooks function, but now they're way more fun and encourage creativity.
Cheap packs of a dozen pens were on the back-to-school shopping list of every parent; however, they always seemed to run out in the middle of an important essay and occasionally leaked ink all over your backpack. Plus, you were out of luck if you made a mistake -- Wite-Out, anyone?
Pens are on another level these days. While you can still get the cheapies, there are way more options available, like the rainbow hues of Paper Mate's Ink Joy pens or pens with erasable ink that allow you to make a mistake without having to start over.