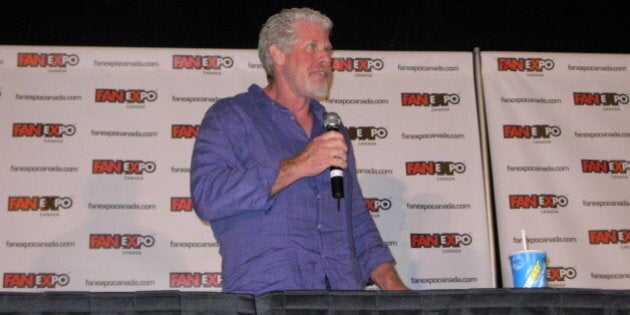 Just like that, Fan Expo Canada is over for another year. Even on Day 4, the last day of the Expo, the Toronto stop was featuring some big-name talent. In fact, some of the biggest stars of the weekend were in attendance, facing an audience of rabid fans who were hoping to ask that one question they'd been waiting to ask.
Plus, with the geekdom bandwagon-jumpers from Saturday gone, the halls were a lot less congested, so you could actually make it to some marquee panels if you left yourself enough time. Ron Perlman, Carrie Fisher, Dean Cain, Nathan Fillion and cast members from "The Walking Dead" all had panels.
The League Of The Supermen Is Real
Remember in July when former Superman actors from both animated and live-action universes came together to form a secret society in a parody video circulating the web?
It featured Brandon Routh ("Superman Returns"), Tim Daly ("Superman: The Animated Series"), his son Sam Daly (Superman in the latest DC animated movie "Justice League: The Flashpoint Paradox") and Dean Cain ("Lois and Clark: The New Adventures of Superman") as they induct Sam, their newest member, into the secret fraternity they call "The League Of The Supermen."
Well, according to Cain, the league really exists: "Tim and Sam Daly are really good friends of mine and we play basketball together. Actually, Brandon Routh is in the same league with us, and all four of us play basketball all the time."
Anyway, it's a league he was pretty much inducted into the moment he put on the signature blue-and-red tights.
"It's one thing to say the fire's hot and if you stick your hand in it, you'll burn. If you say that to a kid, they don't really understand until they stick their hand in the fire and it burns. It was like that with Superman. I remember someone saying, 'You're going to be Superman for the rest of your life.' I was like, 'I don't even know what that means.' Now, I know what that means and it's pretty amazing. I like it, but you never understand the weight of the situation you're in when you're doing it, and once we started shooting, it was a roller-coaster ride from then on."
Princess Leia Joins the Pantheon of Disney Princesses
Though she remained mum on any details related to the upcoming "Star Wars: Episode VII" for fear it would get her in trouble, Carrie Fisher did let slip that she did have a few meetings with director J.J. Abrams. They purportedly talked about what didn't work with the prequel trilogy ... but she stopped herself there. She also commented on the Lucasfilm-Disney sale:
"There's something weirdly organic about it, even though when I try to imagine the support groups with myself and the other princesses, I have a tough time with that: 'Oh, wake Sleeping Beauty up! The bitch is always sleeping,' or 'Drown the Little Mermaid!' I don't know, it's all on that level, but it does reflect the fairy tale of our times. This is an important thing that George did and Disney buying it acknowledges that very thing. It acknowledges that George is altogether The Brothers Grimm. He's two Grimms in one."
Brando And The Blindness Backfire
Ever since he starred as Vincent in the "Beauty And The Beast" TV series with Linda Hamilton, Ron Perlman ("Hellboy," "Sons Of Anarchy") has been known for his performances under a mask, but there was a time, while filming "The Island of Dr. Moreau" with Marlon Brando, that he took prosthetics a little too far.
"I had these lenses in, these milky-coloured lenses, and they were opaque -- you couldn't see out of them. I couldn't see my hand in front of my face. I was playing a character called The Sayer of the Law, who was basically the symbol of law, order and justice and I thought, justice, blind -- blind justice. I was also playing a vivisected creation of animals and a strange lab experiment gone awry, so I would've thought there would've been genetic defects to the guy. I thought, let me play justice blind -- how f--king cool!
But this was the dumbest f--king thing I've ever done. I put these things in, I had to be led everywhere and I hated taking them out, so 'Ron we're ready for you,' turned into 'Who said that?' 'Okay Ron, go stand on your mark,' 'My mark? I don't know what country we're in!' It was horrific.
I was shooting a scene with Brando and it took five days to shoot, but should've only taken a day and a half. This was such a clusterf--k. He kept walking off the set when they were lighting the stage and he'd have to be called back, where he would climb up onto this platform. It would be me and his throne. It was a very small platform, so he'd always have to move me out of the way to get to his chair and on this fifth day, I feel these two hands on my shoulders and I go, 'Ahhhh!'
I must've turned my head because I hear him go, 'Jesus Christ! What is that in your eyes?' We'd been shooting this thing for five f--king days, and the next thing he says is, 'Wait a second, are you playing him blind?' and I'm like, 'Hellooo.' He says, 'Holy s--t, John [Frankenhiemer, the director] we need to start again, man. I didn't know he was doing this, This changes everything!' That's a true story."