The Globe and Mail will not be delivering a paper this Labour Day Monday "due to a lack of advertising revenue."
UPDATE: Postmedia Network's newspapers will also not be publishing on Labour Day, J-Source reports.
The news doesn't come as a huge surprise since the financially-troubled paper recently announced it will stop delivery in Newfoundland and Labrador and in much of B.C, but it's especially unfortunate in light of an ad campaign the paper ran after the National Post stopped delivering on Mondays in 2009.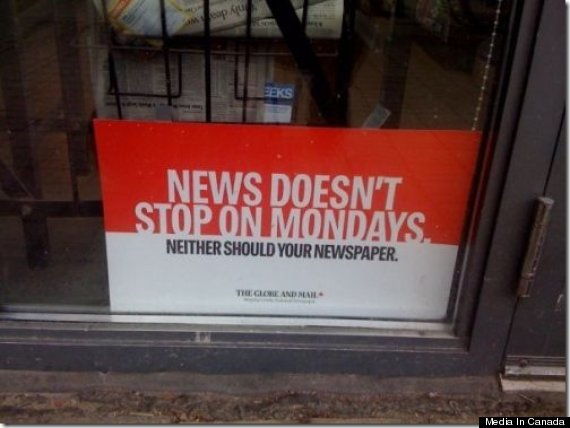 The Globe used the "news doesn't stop" tagline to sell subscriptions to the physical paper.
Today the Globe is more focused on selling digital subscriptions and, along with the Post and Toronto Star, has put a paywall around its stories. The Globe's readership reportedly dropped 40 per cent after the paywall was put in place.
The Globe told J-Source, which first broke the story, that subscribers will receive a credit for the cancelled Labour Day issue.
(h/t to Chris Boutet for pointing out the irony)
Also on HuffPost
Royal Baby Newspaper Front Pages