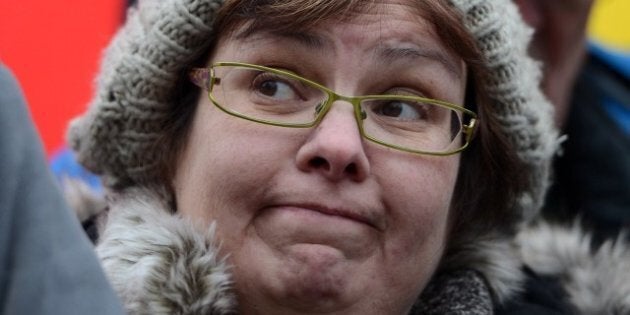 Theresa Spence, who went on a six-week hunger strike last winter in an effort to persuade the federal government to take aboriginal concerns seriously, has been re-elected to a second three-year term as chief of the Attawapiskat First Nation in northern Ontario.
The final vote count is expected to be made public on Wednesday.
Her liquid diet last winter made her a household name, but it also put her at the centre of criticism in the election.
Bruce Shisheesh, another of the four candidates for chief, said looking around the community, the hunger strike didn't change anything.
"Sorry to say. Where's the housing? Where's the results?" he asked.
Shisheesh, whose late brother ran against Spence for chief in the last election, won't speculate about the reasons for the community's chronic housing shortage.
"I don't know what happened, but I'm planning to find out what happened," he said.
Remote ballots not allowed
Meanwhile, those who live off-reserve have been unable to cast their vote. The Congress of Aboriginal Peoples has urged the Attawapiskat First Nation to postpone band council elections until all members, living on or off-reserve, have had a chance to cast a ballot.
The group says it's unfair to people who live outside the remote northern Ontario community to have to cast their vote in person. Voting went ahead Tuesday despite the complaint.
According to Aboriginal Affairs and Northern Development Canada, the Attawapiskat First Nation has a total registered population of 3,472. Of that, 1,489 people — nearly half— live off-reserve.
"I think it's absolutely ridiculous," Betty Ann Lavallee, national chief of the congress, said in an interview.
"If you looked right now at the costs of an airline ticket to Attawapiskat for the ordinary aboriginal person living off-reserve, you're taking about some of the poorest of the poor here. There's no way they could afford that."
Spence has said the idea of a remote ballot was turned down in a community vote a few years ago, but it should be revisited.
Conrad Ihatail, one candidate for chief, said voters want him to work on housing and mining revenues if he wins the election.
Kataquapit said housing is also a priority for her after talking to voters — many of whom live in aging bungalows or musty trailers.
"Our community's always in a housing crisis, but I'm willing to take a crack at it," she said.
Attawapiskat's financial troubles were also highlighted after Spence's public campaign to raise awareness about her reserve's housing and health crisis.
The reserve has received $90 million in federal funding since 2005 and the federal government hired Deloitte to conduct an audit in 2011 to find out how that money was spent.
- Read more about Deloitte's audit on Attawapiskat
- First Nations housing in dire need of overhaul
The audit revealed a "serious problem" in the reserve's financial records, as only about 20 per cent of the transactions were properly documented.
Spence's supporters said, however, that the reserve's accounting practices have improved since she became chief, as the transactions that have no issues went from 15 per cent to 33 per cent after she took over.
Controversial hunger strike
Another candidate, Christine Kataquapit, is trying to make a leap from band councillor to chief. She filled in as chief for Spence during the hunger strike.
Kataquapit said Spence should have consulted her people before starting off on the high-profile protest.
"There should have been more community meetings, so people can be happy," she told CBC News. "Some people are angry and feeling left out."
Spence said she has heard different opinions about her hunger strike from voters, but the experience opened the eyes of the federal government to her community's plight.
She added that she has learned many lessons in her first term and she fears Attawapiskat will take a step back with a less experienced chief.