If you were to dress as an Internet browser, what would you be: Vivacious Internet Explorer, racy Firefox, dainty Opera, practical Chrome or swank Safari?
Pashuta told HuffPost Canada Style:
"Working as a fashion photographer, most of your creative projects evolve around fashion editorials that usually have one theme and focus mainly on the clothes. This time I wanted to combine fashion and Internet technologies to create something that will speak not only to the fashion crowd. We see Internet browsers icons every day and looking at my desktop screen I came up with the inspirations to glamorize boring icons and bring them to life in a form of beautiful fashionable girls. The idea was not only to show the color resemblance but to look behind the functionality of those browsers. For instance, Internet Explorer is flashy, Firefox sexy, Opera elegant, Chrome utilitarian and Safari - trendy/hip."
"Firefox" predictably sports a fox fur stole; "Opera" wears a Lady Gaga-inspired Forever 21 mini dress; "Chrome" pops in a colour-blocked ensemble and "Safari" is the trendiest of the bunch in high-waisted pleated pants, sports jacket, lobster necklace and bouffant hairdo.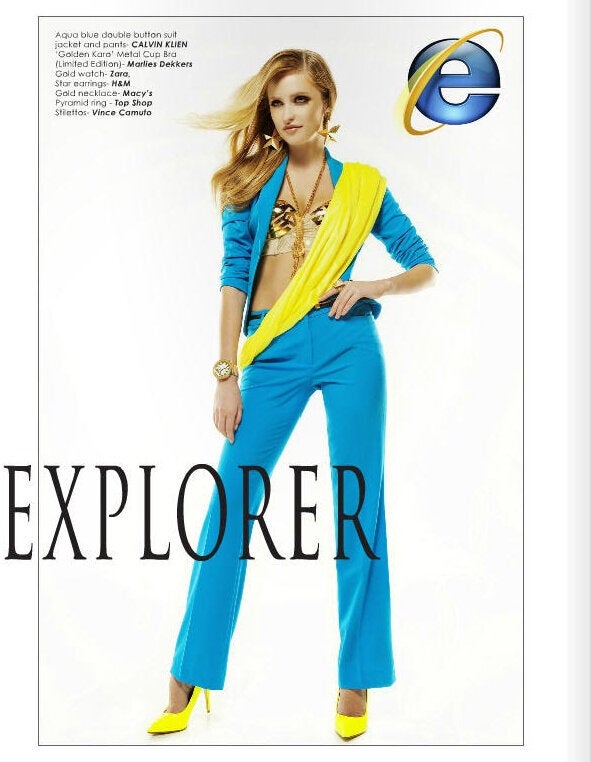 Women Dresses As Internet Browsers