The lock is sawed off, the storage locker flies open, and after a quick peek inside with the flashlights, the bidding begins.
Anyone who's familiar with A&E's "Storage Wars" knows the formula by now, but what you may not know is how the Canadian version stands apart from it's predecessors. With a whole new cast of homegrown auction enthusiasts, hidden treasures and unpredictable weather to deal with, rooting through storage lockers in the Great White North on "Storage Wars Canada" is a whole different ballgame.
1. Canadians Aren't Polite
The show follows six homegrown buyers, each one with their own schtick and lots of sass to spare.
First, there's husband-and-wife-team Cindy Hayden and Rick Coffill, aka. "The Veterans," who have been in the biz for 17 years. Then there's Paul and Bogart Kenny (a.k.a. "The High Roller" and "The Kid") -- the father and son team that work together, but also bicker a lot in the process.
And of course, there's Urusula Stolf, also known as "The Knockout," who lives up to her name by sporting teeny dresses and sky-high heels to auctions (some say as a way to distract the other bidders).
"I think it's more of an intimate feel to this series," said Ursula. "Because you get to know us a little bit more than you do on the American ones -- there's that Canadian twist."
However, Roy Dirnbeck, a.k.a. "The Instigator," isn't one to mince words.
"I want to show Canadians that we can do it better than Americans," he said. "I think we're smarter ... we're way better-looking than those fat guys in Texas."
You're unlikely to see antique guns and old firearms in the storage lockers up here, even though they feature pretty prominently in the U.S. versions (especially in Texas). On the other hand, stored items in Canada come from all over the world, which means some pretty unique and odd items are lurking in those lockers.
"We've sold slot machines, dolls," said Bogart Kenny. "We sold a jar of air for like, a hundred dollars once. We were like, 'Yeah it's Ontario air in a jar.' People on eBay, they just buy it!"
Is it or isn't it? There's been a lot of speculation over other "Storage Wars" series in the U.S., with allegations that items are planted in storage units for more drama. Rest assured, no such staging takes place here; auctioneer Don has been setting up auctions for over 48 years, and he's the one who provided producers with real customers he already knew, who he thought would be a good fit for the show.
"I do about 50 to 60 percent of the auctions in Toronto anyway," said Don. "The crew that came out stayed back out of the way, they didn't interfere with the auction or screw us up ... so that's where it went from there, and here we are."
4. There's No 'One' Strategy
Each one of these guys will tell you the 'right' way to win an auction and seek out good stuff. Yes, high-quality and brand-name items are signs of a good score, but there really is no one way to succeed, and everyone has their own tried-and-true strategy for bargain hunting.
One thing that everyone can agree on? Experience. Having experience makes it easier to intimidate newbies with sky-high bids, and allows buyers to more accurately price any items they see (or even don't see).
"We have more experience so we know how to play it a little bit better," said veteran Rick. "We've got the most knowledge of the value of what's inside, and that's important."
"Storage Wars: Texas" had it easy. Try loading a truck in four feet of snow, or standing all day at auction in the pouring rain.
"[The weather] is just another element. You slap some chains on your tires and go," said Ursula. But she admits that looking good in foul weather isn't exactly a cup of tea, and has ruined a few pairs of good shoes at auction.
Rain or shine (or hail), the show must go on -- that's the Canadian way.
"This goes on all year 'round, no matter if it's snowing, blowing, raining, wind's whistling. You're there and you gotta do it," said Don.
"Storage Wars Canada" debuted Thursday, August. 29, at 9 p.m. ET/PT on OLN.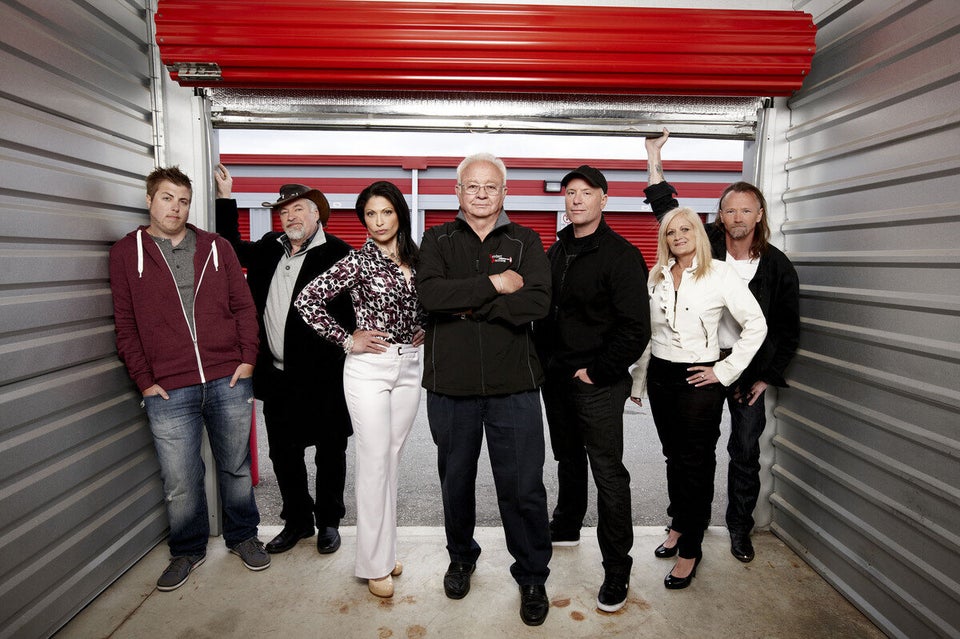 'Storage Wars Canada' Cast