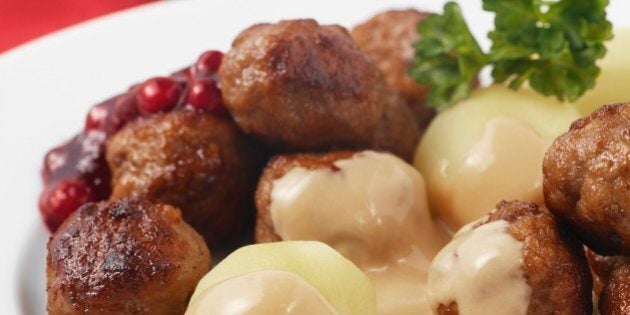 If you've ever stepped into Ikea, you know your nose will quickly take you to their restaurant or cafe stocked with meatballs, mashed potatoes and that super duper cheap hot dog with mustard and relish.
Recently, the company released a recipe collection featuring the best in seafood, lingonberries and elderflowers — classic ingredients used in Swedish cooking. Some notable recipes for 2014 include a cheese and dill quiche, pancake cake and cold poached salmon with caviar sauce. While a few of these are making us drool, others might require an acquired taste. We're not so sure about the squeeze-tube fish eggs.
But this hasn't stopped Canadian shoppers from pigging out on cheap dogs and frozen yogurt. Here's a look back at some of our favourite Ikea dishes (or their frozen alternatives). Which ones did we miss?
LOOK — 20 classic Ikea foods: