The Calgary Zoo has welcomed one of the most unique bears you'll likely ever see.
Officials welcomed a "white" black bear over the weekend, after she became a problem to the community of Elkford, B.C.
According to The Free Press, the unusual looking bear was repeatedly spotted over the past two years getting into garbage and campgrounds in the quiet town, and at one point was even caught dragging a sleeping bag out of a tent.
The bear was baited in Elkford Sunday and immediately transferred to Calgary, according to the zoo's Facebook page.
Story continues after the photo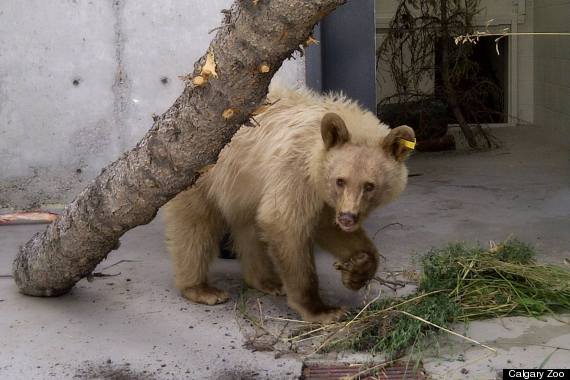 "She's white and female and unique so she gets a second chance," Kathy Murray, WildSafe BC coordinator, told The Free Press, explaining that an average bear would have likely been euthanized.
"A zoo is better than the alternative."
According to Metro Calgary, the bear has a genetic mutation that causes its fur to turn blonde.
"Unfortunately we don't have the capacity to take in all problem bears but given the public interest in this bear because of its coloration, it has great potential to act as an ambassador for its species and habitat, " spokesperson Laurie Skene told Metro.
The zoo told CBC Calgary the bear will help educate people about respecting local wildlife and about how to make sure their actions don't create more problem bears.
The bear will remain in quarantine for 30 days before joining other bears in the exhibit.
Also on HuffPost