(Relaxnews) - Customer service complaints being met with radio silence? Take a cue from a disgruntled but enterprising flier who aired his grievances to the world by buying a promoted tweet to get the airline's attention.
When complaints about his father's lost luggage from a British Airways flight went unanswered, Twitter user and businessman Hasan Syed took the entrepreneurial route and decided to buy a promoted tweet that would be blasted in New York and UK markets, reported Mashable.com.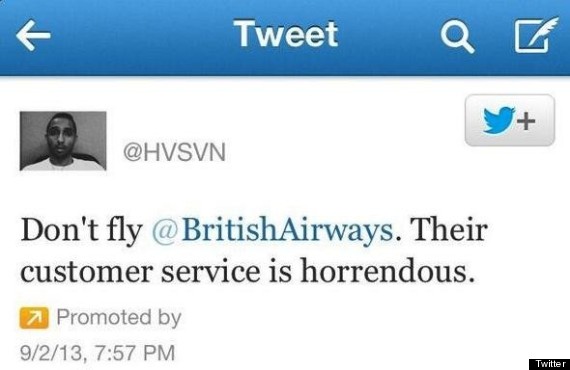 Instead of ads for new sneakers or the latest smartphone, Twitter users were bombarded with the unusual message, "Don't fly @BritishAirways. Their customer service is horrendous" on Monday.
Not only did the move get the airline's attention, it was also picked up by Marty St. George, senior vice-president of marketing and commercial over at JetBlue Airways who presaged the strategy as a "new trend itself."
The story has since been picked up by major media outlets in the UK including the Guardian, Telegraph and BBC, for what could portend to be a powerful tool for disgruntled passengers.
British Airways has since apologized to Syed and said his luggage would be returned.
Syed reportedly paid about $1,000 to place the ads on both sides of the Atlantic.
Earlier this summer, another airline complaint went viral after business tycoon Sir Richard Branson picked it up on his blog. Written by tennis pro Arthur Hicks, the letter to Caribbean airline LIAT drips with amusing sarcasm.
After recounting the incredible flight that included stops at six different island airports, the letter ends with the kicker, "P.S. Keep the bag. I never liked it anyway."
Also on HuffPost