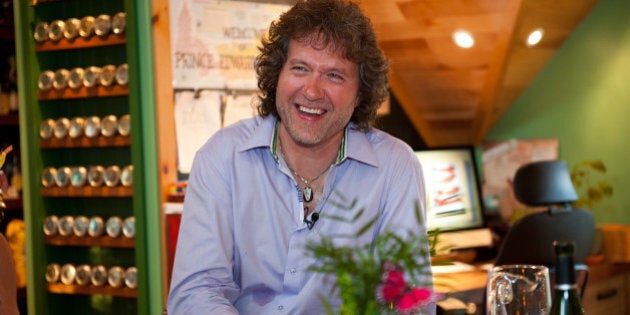 It can be intimidating to start cooking if you never have before — everything we're taught about preparing a meal lends itself to "perfection." There's a right way to cook this or there's a better way to serve that; one mix-up in the kitchen and you're apt to feel like a failure, someone who will never set foot near an oven again.
Residing in P.E.I., the gentle giant (he's six-foot-seven!) behind several cookbooks and the popular series "Chef At Home" is on a mission to make food fun again. This, he hopes, will inspire people to eat healthier which will, in turn, cut down on some of the food-related health issues facing many Canadians.
We recently had the opportunity to visit Smith at his P.E.I. home and to snag a few of his unique yet humble chefing tips (it has to be said, in real life, Smith is much more like The Dude from "The Big Lebowski" than he is a snappy cook). His main message? "It's life. It's not about being perfect. Have a little bit of fun."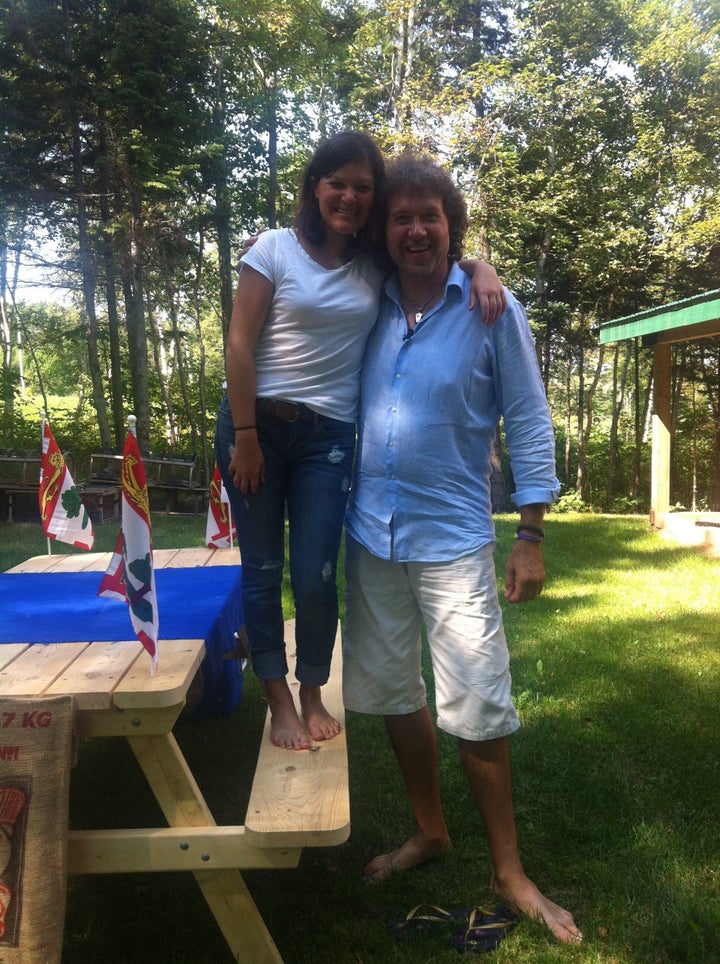 Many fancy chefs — or would-be ones, for that matter — trick out their kitchen with the latest gadgets or try to keep things sleek, but not Smith. His kitchen is a tome to the foodie experiences he's had around the world. There's a row of clocks lining the wall above his deck door set to the timezones of the places that he's had the best food — Chiang Mai and Kenya — and there's a long, wall-length wooden block where he displays (for easy access) all of the knives he's collected over the years. His walls are lined with vintage wine crates from France, a wine rack above his fridge is bordered by a chalkboard that says "Think Global, Eat Local," and utensils are stored in a rainbow of Le Creuset pots. It's all a little cluttered, but Smith says, once you feel comfy in your kitchen you'll be inspired to cook on a regular basis. Lay everything out in a way that works for you, and be sure to clean messy pots up as you go. (Michael has a thing against greasy, grimy pots blocking his way around the kitchen. His solution? Load the dishwasher often and use a good dish detergent that's guaranteed to leave kitchenware spotless. His go-to product is, and always has been, Cascade Platinum.)
Mason Jars Are Everything
Instead of formal wine glasses and mugs, Smith and his family serve almost everything in mason jars (he and his new wife, the mother of two of his children, even had guests sip out of the glass containers at their wedding — the duo tied the knot 48 hours before we arrived in P.E.I.). He even uses these inexpensive cups to store spices and to infuse the island's famous gin with wild roses.
If you flip through any one of Smith's books, you'll notice he uses a bunch of the same ingredients: he's a fan of sweet potatoes, he likes root veggies and he will cook any kind of meat he can get his hands on. But the one thing that allows him to improvise in the kitchen is to religiously rely on a simple, standard grocery list. You can use the exact same one he does — which is full of healthy ingredients — by downloading it here.
Cooking Is Fun, It's Not Work
One of the biggest lessons Smith has learned as a chef is it's important to make being in the kitchen fun. So the P.E.I. chef suggests skipping segregated cooking roles (i.e. one person chops, another washes the dishes, etc.). Instead, he and his family partake in the cooking process together; cleanup is a shared chore, too. This ensures the "making dinner process" is a bonding one (and one you'll likely laugh over).
Formal plating is passe, says Smith. And the idea of carving a roast or perfectly slicing chicken is out of touch with the way we live our daily lives (though it's still fine for special occasions). To liven things up in the kitchen, the man behind the stove says it's more fun and fruitful to serve family style. Sure, it's a bit more chaotic ("Ma, can you pass me that bowl of pasta please?"), but it's also way more fun because there's less formality around the meal. His message? The process of eating should be as relaxed and fun as the process of pulling breakfast/lunch/dinner together.
We in Toronto (where The Huffington Post Canada headquarters are located) think our winters are cold, but we've got nothing on P.E.I. where temperatures are sub-zero for several months in a row. Still, Smith advises people to cook outside for as long as they can -- even in the rain or snow. Shovel a path to the BBQ, chop fruits and vegetables under a deck overhang in the rain -- this will help you stay in touch with nature, where your food comes from, and will help you connect to what you're eating.
One of the easiest ways to eat healthy is to have an entire shelf of fruits and vegetables at the ready for you to nibble on when you get home from work (or for when the kids get home from school). People, when tired, reach for food that's easy to prepare; and no one can claim chopping vegetables is an ideal chore post-work. Do all of the chopping on a Sunday and have the food laid out in the fridge or on a shelf so it's ready to nibble on when you need a nosh during the week.
Bored of your brown-bagged lunch? There's no need to be, says Smith. One of the solutions he's devised to get over lunchtime boredom is to create an all-in-one mash-up meal of 20 things he has in his fridge. The goal is to throw as many things in a pot and let it simmer (the ingredients could be leftovers from another meal or fresh off the vine veggies). Then, when you're eating, try to see if you can remember what the elements of your meal are. You'll never get bored because the configuration is always different, and you'll easily hit your daily dose of veggies.