"When you think hip-hop, you think Ron Howard," Toronto International Film Festival programmer Thom Powers quipped as he introduced last night's world premiere of "Made In America," the legendary filmmaker and actor's documentary about the equally legendary hip-hop mogul Jay-Z's Philadelphia music festival of the same name.
Indeed, it seems like an odd combination at first. The man who won the hearts of audiences worldwide as Opie on "The Andy Griffith Show" and Richie Cunningham on "Happy Days" before moving on to direct massive films like "Apollo 13," "The Da Vinci Code" and "A Beautiful Mind" (even winning an Best Director Oscar for the latter) seems about as removed from the music scene celebrated in Jay-Z's massive Philadelphia festival as you can get.
Howard wasn't even really a fan of hip-hop before taking on the project, although he's at least been aware of the genre since the eighties thanks to his partner at Imagine Entertainment, Brian Grazer, who is a huge fan. It's hard to imagine just what Jay and his people (and "Made In America" sponsors Budweiser, who helped to set the film up) were thinking when they offered Ron Howard, of all people, carte blanche to cover the inaugural edition of the festival.
But after seeing "Made In America," it's hard to imagine anyone else at the helm, though. In his own introduction to film, Howard urged the audience to think of him as "a kid in a creative candy store, and also a stranger in a strange land," and emphasized his sense of wonder about the whole thing.
The reminder, while about as charming as everything else the first-time documentarian had to say about the project, was hardly necessary. That wonder and enthusiasm are apparent in every aspect of the film. Whether he's interviewing Hova himself, learning to DJ with Skrillex, talking to a local roadie about his struggles, or visiting a 103-year-old Philly local about the horrible racket that all of this "bang bang music" at the concert is causing, Howard approaches his subjects with an endearing and surprisingly thoughtful mix of giddiness and respect.
Article continues after slideshow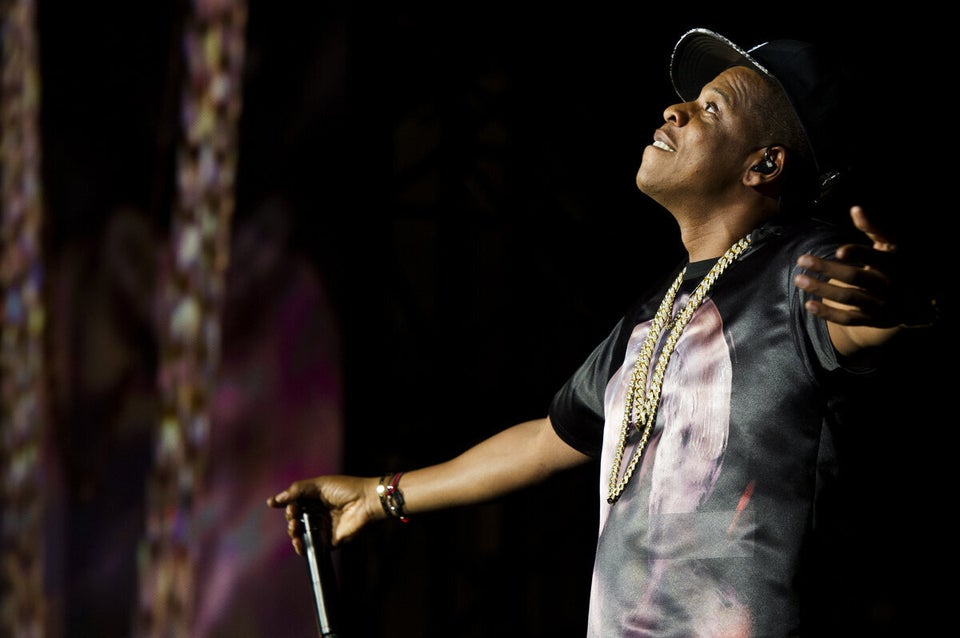 Made in America Music Festival 2012
As a whole, it makes for a unique and refreshing take on the concert film genre. "Made In America" isn't just about Jay-Z and the other artists who performed that weekend -- even if Tyler The Creator's antics and Run DMC's insights about everything from the current political climate to Aerosmith's "hillbilly lyrics" arguably steal the show. It's about the very idea of what it means to be made in America, a portrait of the American dream as something that can both falter and fly.
In a post-screening Q&A with the CBC's George Stroumboulopoulos, Howard said that it was Jay-Z's vision for "Made In America" as a way to break down artistic, political and personal barriers that inspired him to reach out and talk to people behind-the-scenes and in the crowd as much as he approached the people on the stage.
"I certainly wanted people with something at stake," he said. And what he found among the food vendors, tech staff, security guards and crotchety-but-kind neighbours was a prevailing sliver of hope in the face of often brutal odds. "There was, to a person, a sense of 'it's tough, but I don't believe I'm a victim," Howard told the crowd. "It was surprising to me how pervasive it was."
Howard admitted that he wasn't exactly the best interviewer during the course of the shoot. "Your job is hard!" he confessed to Strombo at one point. "I think I could have done better." But his somewhat awkward softball style does lead to some of the film's more playful moments, including a little bit of ribbing at the hands of Odd Future's Tyler The Creator.
Howard's staff actually asked him if he wanted to remove the part where the controversial rapper made fun of him during the editing of the film, but he refused. "I said 'No! That's the best part!'" he laughed. The director went on to praise Tyler both as an artist and a person. "He's awesome!" he enthused. "I admire his audacity and the way he lives." He even compared Odd Future to the freewheeling and wild subjects of his F1 blockbuster "Rush," which will also have its world premiere here at TIFF.
The filmmaker saved his biggest praise for Jay-Z himself, though, saying that he was particularly impressed by the artist's connection with the audience. He went so far as to compare Jay-Z to Frank Sinatra, which is an association that's at least a little less random than Ron Howard and hip-hop, even if Howard himself thinks it's a bit out there.
"I was watching Jay-Z and I thought of Frank Sinatra," he said. "Which doesn't really make sense. But good is good."