Vancouver Canucks player David Booth is drawing fresh fire for a hunting photo that shows him holding two dead raccoons, just a week after another hockey player was seen holding grizzly parts in northern B.C.
Booth's photo, posted July 31, shows two small raccoons strung on a single arrow with a caption saying, "It's like getting both assists on the game winner. #raccoonkabob."
The photo, which angered activists with the Vancouver Humane Society (VHS), drew a flurry of Facebook comments after it was posted to the group's account Sunday.
"How hilarious, a grown man finding joy in his success with taking the life of creatures smaller than him. Sorry, did I say man? Boy," said commenter Emily Grant.
"He should be traded. I would be ashamed to call him a Canuck," Andrea Benvenuto-Honarbin wrote.
VHS spokesperson Peter Fricker admitted that the society isn't aware of Booth doing anything illegal, adding that "things can be immoral, but still be legal."
"We're extremely disappointed that David Booth would post such a picture," he told The Huffington Post B.C.
"It obviously shows a disrespect for wildlife, and to make fun of killing animals we think is extremely distasteful and inappropriate."
This isn't the first time that Booth has courted controversy over his hunting activities. In May 2012 he faced criticism over a bear-baiting incident in which he set a trap for a black bear in Alberta before shooting it with a bow and arrow.
He has also posted photos to his Twitter account that show him with a dead mountain goat and ducks strewn across his torso.
Booth has actually set up a separate Twitter account for his hunting photos. They include him kneeling next to a dead black bear and holding up a dead mouse, as well as a picture of the head of a whitetail deer mounted on a wall at his house.
And the Canucks left-winger isn't the only hockey player who hunts for fun.
Last week, B.C.-born Minnesota Wild defenseman Clayton Stoner was spotted in a series of photos holding up a head and a paw belonging to a grizzly he had shot in the Kwatna Estuary between Bella Coola and Bella Bella. The B.C. Conservation Officer Service is investigating the shooting.
Check out photos of David Booth's hunting activities: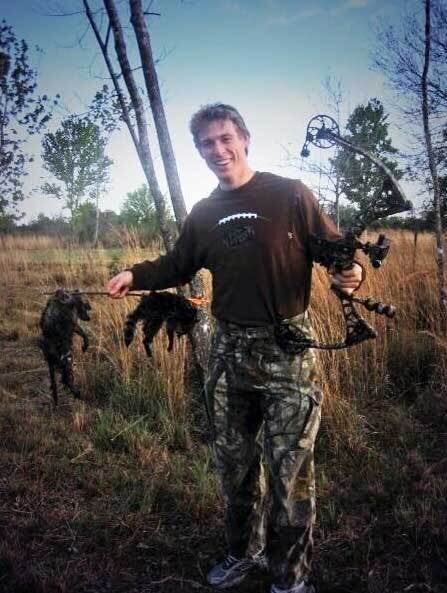 David Booth Hunting Photos