At first it seemed like the feat would prove to be too much for a Calgary police officer attempting to single handedly pull a 180,000-lb. UPS Airbus A300 aircraft down the Calgary International Airport tarmac.
But as a YouTube video shows, after moments of anxious waiting the massive weight of the cargo plane gave way under Sgt. Dennis Ruygrok relentless strength.
Ruygrok, Canadian Strongman record holder and president of the World Natural Strongestmen Federation Canada, pulled off the amazing feat as more than 550 everyday superheroes gathered on a runway this weekend to show that pulling together can, indeed, help overcome large obstacles.
Wearing capes and masks, and ready to show their superhero strength, 37 teams of 15 persons each - attempting to pull the plane 50 feet at a time - came out to the second annual UPS/United Way "Pulling for U" Plane Pull Sunday.
Under their own power, teams pulled the cargo plane a total of 560 metres, raising more than $100,000 for the United Way.
The fastest team, the Van Houtte Grinders, accomplished their portion of the pull in 20.86 seconds
"We've asked the many local superheroes who emerged during the flood not to put their masks and capes away just yet. Clearly they're up to the challenge," said United Way of Calgary and Area President and CEO Lucy Miller.
"Not only did Calgarians come together and repeat last year's success, they exceeded it by far. When we all pull together for our city, we become superheroes."
Teams and onlookers cheered as Calgary Police Service member Ruygrok showed off his superhuman abilities for the crowd when he mustered his strength and pulled the plane forward several feet.
But once one wheel began to move, it gave the momentum needed to put the plane in motion.
The money raised will go to various charitable organizations in the Calgary area.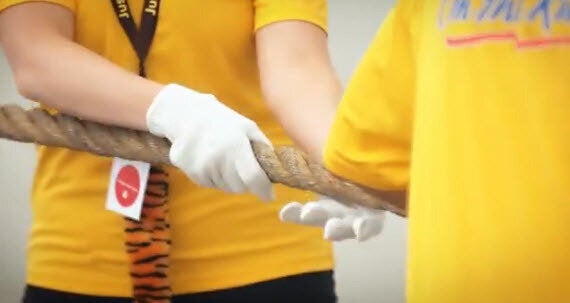 United Way Plane Pull Calgary