Saturday's Great Manitoba Duck Race took an unexpected turn when thousands of rubber ducks got loose.
As part of a fundraising event, 13,000 ducks were dropped into the Assiniboine River, but the booms meant to contain the ducks "did not hold," according to a statement from the Assiniboine Park Conservancy (APC). Over half the ducks escaped.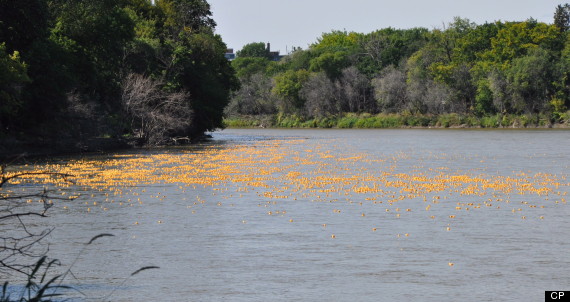 Ducks float on the Assiniboine during Great Manitoba Duck Race on Saturday Sept. 7, 2013. (CP/Assiniboine Park Conservancy)
An unexpectedly strong current was to blame, according to APC spokesperson Laura Curtis. She said that while "several emergency services companies" said the "professional-grade" oil booms were sufficient, next year will be different.
"We definitely need to judge the current and the wind and figure out a different way to stop the ducks," she told CTV.
On Sunday, APC announced it had collected the "majority" of the ducks and cleanup efforts would continue.
APC said the ducks don't pose an environmental threat, but some were concerned children would risk their safety to retrieve the toys, according to the Brandon Sun.
Those who spot collections of ducks along the river can call 204-927-6001 to have them removed.
Also on HuffPost