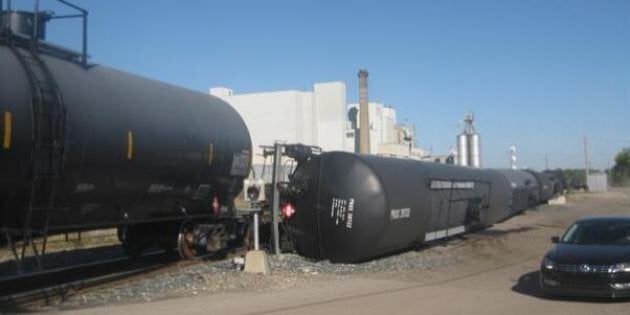 Eight cars of a CP Rail train derailed Wednesday at a rail yard in southeast Calgary.
Company spokesman Ed Greenberg says there were no injuries and there was no leakage from the cars, which are lying on their sides at the Alyth Yard.
The cars were carrying a diluting agent used in oil pipelines.
Calgary Mayor Naheed Nenshi said there was briefly a small evacuation of the immediate area but everyone has since been allowed to return home.
He said Blackfoot Trail, a major commuter route, would be closed overnight but crews were working to ensure it could be reopened by morning.
Evacuations took place between 13th and 15th street south of 9th Avenue.
Barber also said there are reports a hissing noise could be heard coming from several cars.
Greenberg says the north-bound train was moving at a slow speed when the cars left the tracks Wednesday afternoon.
He says the company has launched an investigation to determine what happened.
UPDATE: The City of Calgary has confirmed that Blackfoot Trail is open and will allow traffic during the morning rush hour.
However, 15 Street between 9 Avenue and Blackfoot Trail S.E. will remain closed to allow crews to continue to address the derailment.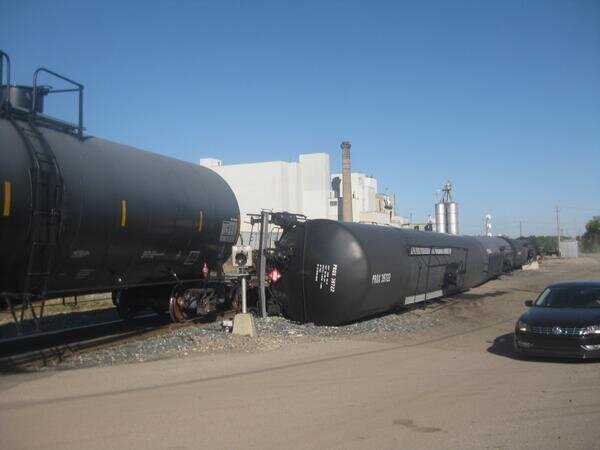 Train Derails In Calgary - (September 11, 2013)
With files from The Canadian Press