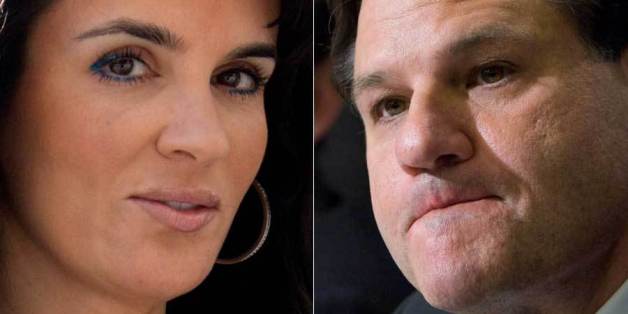 CP
VANCOUVER - Vancouver Canucks co-owner Francesco Aquilini and his estranged wife formalized their divorce Wednesday, ending nearly two decades of marriage and sparing themselves, the Aquilini family business and their children a messy trial that had the potential to let sensitive personal and corporate secrets spill out.
Lawyers for Francesco and Tali'ah Aquilini announced a last-minute settlement earlier this week just as a high-profile divorce trial was set to begin, and a judge formally granted the divorce on Wednesday.
Most of the terms of the settlement will remain secret, but lawyers involved in the case have already said the agreement does not affect the ownership of the Canucks, which Francesco owns along with four other family members through the Aquilini Investment Group.
The sparse details revealed in court focused on the custody of the couple's children.
Tali'ah will have sole custody and guardianship of the couple's three youngest children, though Francesco must be consulted on major decisions and will have parenting time with them.
They have four children together, though the eldest is off attending law school, said Tali'ah. Francesco has a fifth child with a previous marriage.
Outside court, Tali'ah choked back tears as she repeated that she and her former husband had their children as their first concern.
"Unfortunately, I had no choice but to ask for a divorce," said Tali'ah, standing beside her lawyers outside a downtown Vancouver courthouse.
"My priority through this whole process has been the protection and care of my children, who are the most precious treasures in my life."
Francesco did not attend Wednesday's court hearing, nor was he present when the settlement was announced on Monday.
Francesco and Tali'ah Aquilini were married in May 1994 and have been separated since January 2011.
Earlier in the case, Tali'ah accused Francesco of adultery and sought to bring that evidence into the trial, but the judge ruled such allegations would not be heard.
Tali'ah testified briefly on Wednesday, nervously confirming the dates of the couple's marriage and separation. When asked if the marriage was irreconcilable, she replied that it was.
Speaking to reporters, she declined to elaborate on precisely why the marriage fell apart.
"Circumstances came to light that weren't conducive to marriage," she said.
Francesco's lawyers declined to comment after Wednesday's hearing, referring to a statement the businessman released on Monday.
"This settlement means we will be able to keep our personal lives private and, most importantly, avoid the negative impact of a trial on the children we both love," said the statement, which Francesco released on Twitter.
Francesco is one of five family members, along with his parents and two brothers, who control the Aquilini Investment Group, a complicated web of corporations, business partnerships and trusts.
The investment group owns the Canucks, the team's hockey arena in Vancouver, and a number of other businesses, including a development and construction arm, blueberry and cranberry farms and a golf course.
But little is known about the internal financial workings of the investment group or the Vancouver Canucks, and estimates about the family's worth have varied widely.
Francesco's lawyers had sought to keep financial records related to the company and the Aquilini family confidential during the case, though some previously unknown details would likely have emerged if the trial had proceeded.
A trial, which on the first scheduled day saw more than a dozen journalists crowd into the public gallery of the hearing room, would also have provided daily fodder for newspaper headlines and online gossip.
In Canadian divorce cases, allegations of adultery can only become a factor if a spouse is seeking a divorce earlier than a year after a couple has been separated. Such allegations can't become a factor when it comes to the division of assets or child custody.
The judge hearing the case concluded there was no need to hear those allegations, because Francesco and Tali'ah had already been living separate and apart for 12 months.
In pre-trial hearings, Tali'ah asked the judge to force the sale of a rare wine collection estimated to be worth nearly $800,000 to cover her legal expenses.
She also asked for an order giving her access to vacation properties, hockey tickets and other perks associated with the Canucks while the case works its way through the courts.
Both of those requests were denied.