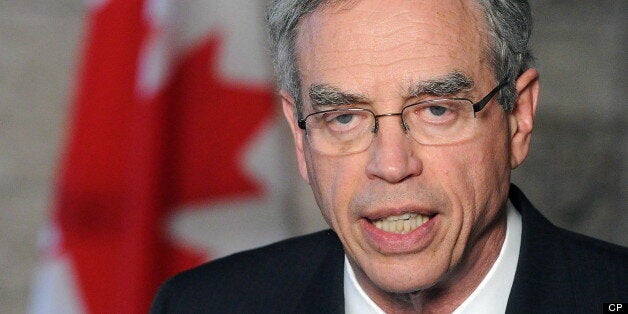 Natural Resources Minister Joe Oliver says he's been getting an "enthusiastic" reaction from the new U.S. energy secretary on a proposal from Ottawa that Canada and the United States work together on targets to reduce emissions from oil and gas production.
In an interview with CBC News Tuesday, Oliver said he was encouraged by his first face-to-face meeting with U.S. Energy Secretary Ernest Moniz in Washington on Monday.
And he says officials are now working on the details of a plan.
"I would say they want to work with us and I'd had a previous conversation with Secretary Moniz and you know I was very encouraged by his reaction.
"We are both really quite enthusiastic about working together, we've appointed officials to move things along and I hope to see the secretary ... in a fairly short time frame," Oliver said.
Harper offers co-operation, with Keystone in mind
The CBC's Chris Hall reported on Friday that Prime Minister Stephen Harper sent a letter recently to U.S. President Barack Obama, offering "joint action to reduce greenhouse gas emissions in the oil and gas sector" if that's what needed to get the Keystone XL pipeline approved.
Oliver said he specifically discussed it with Moniz along with questions about energy infrastructure.
"I can tell you what is proportedly in the letter is consistent with what our government wants to do, which is to work with our American friends and allies on energy policies an environmental policies to make sure we are approaching the development of our non-conventional resources, which are immense, in an environmentally responsible way."
Oliver's spokesman later said "non-conventional resources" refers to oilsands oil, shale gas and so-called "tight oil" — oil that requires more intensive measures to extract.
Harper has staked his plan for Canada's prosperity in the first half of the 21st century on a vast expansion of the country's resource economy. New pipelines are vital to that plan to get those resources to growing economies in Asia.
But that ambition has been slowed on the West Coast by ferocious opposition to transporting heavy oil through northern British Columbia.
Attempts to move Alberta oilsands bitumen through the United States to the Gulf of Mexico via the proposed Keystone XL pipeline have run into open skepticism from Obama, who has dismissed suggestions the project would create thousands of jobs and acknowledged concern about an increase in greenhouse gas emissions with the expansion of the oilsands.
Oliver said he has invited Moniz to visit for more discussions.
"I've invited him to come to Canada and I expect to meet him again," Oliver said, adding the date's not confirmed yet.
"I just made the offer and we'll see. I alerted him to the fact that it gets colder in the winter, maybe that will accelerate matters."
While Oliver seems quite upbeat about Monday's get-together in Washington, there's silence on the U.S. side.
Calls about the joint meeting from CBC News to the U.S. energy secretary's office have not been returned.