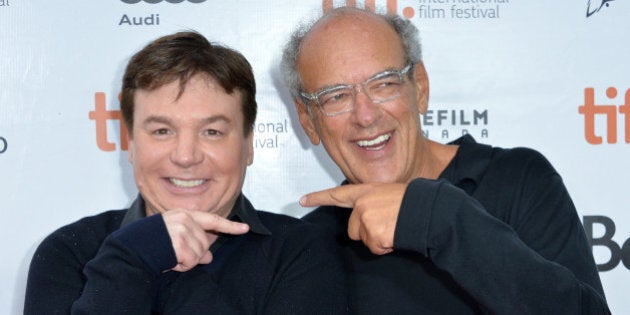 "Everything I do I have to be connected to," explained first-time director Mike Myers to a healthy crowd following a Toronto International Film Festival screening of his documentary "Supermensch: The Legend of Shep Gordon," about the music industry mainstay, who managed Alice Cooper, did acid with Jimi Hendrix and partied with John Lennon.
"With 'Wayne's World' [the connection] was growing up in [Toronto suburb] Scarborough. With 'Austin Powers' it was my Dad. My Dad had just died and my heart was broken and I was just trying to think of all of the things that my Dad had made us watch."
So what drew Myers to direct a documentary about a man whose name (outside of Hollywood, anyway) almost no one would recognize?
Turns out, by his reckoning, Mike Myers has been trying to make a movie about Shep Gordon for 20 years. And for 20 years Gordon, a man of apparently limitless grace and modesty, has thanked him and refused. "Then, I got married and had a kid two years ago," recounts Myers. 'This is the happiest I have ever been in my life. And I was just trying to think of the people in my life who I love. And I said: Shep, you have to let me make a film."
Why did Gordon agree, after all of these years of reluctance? "Um, I don't know," he shrugs at an audience member who asks that very question. "But," he winks, "probably ego."
If that's true, we should all have egos like his.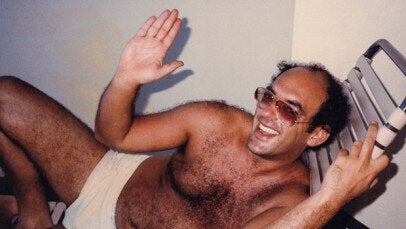 In fact, the only reason that Shep Gordon is not a household name is that he has done his level best to keep it that way. This is a man who, ever since his first encounter with the entertainment industry -- a chance run-in with Janis Joplin, Jimi Hendrix, Jim Morrison and a batch of LSD at a Hollywood hotel in the late 1960s -- has been a fixture in the business. After starting out by managing Alice Cooper -- a band he helped turn from a so-so rock outfit to among the biggest acts in the world -- Gordon would eventually represent an astounding range of clients, from George Clinton to Anne Murray, Luther Vandross to Michelle Shocked, Kenny Loggins to Blondie, and New Riders of the Purple Sage to Teddy Pendergrass.
And that's just looking at the music industry. As Myers' loving, endlessly entertaining film elucidates, Gordon was also at the vanguard of independent filmmaking in the early 1980s (producing Godfrey Reggio's landmark "Koyaanisqatsi"), before arguably inventing the very concept of the Celebrity Chef to help out clients like Wolfgang Puck, Emeril Lagasse and Roger Verge.
In other words, Gordon is a mogul; among the most consistently successful men in the industry over the past 40 years.
But what makes him truly special, and what lifts this documentary out of the realm of mere hero-worship of an especially good-hearted guy, is that Shep Gordon hates fame. Or, more precisely, he fears it.
"I've always been someone who truly believes that fame kills," Gordon explains, with characteristic guilelessness. He has seen what it does to people, firsthand. The three stars that gave him his first taste of the business in that Hollywood hotel? All dead by the end of 1971. Alice Cooper fell into alcoholism. Pendergrass suffered catastrophic injury in a car crash -- an accident Gordon believes was a matter of karma. "But, having said Yes [to do this film]," he admits, "I can feel the fool's gold effect. Because I am enjoying it. And I know that it's dangerous."
Though he surrounded himself with famous people, Gordon endeavored as much as possible to remain in the background these past decades. He partied his way through the cocaine-debauched 70s and 80s with savage bingers like John Lennon, Harry Nilsson, and Teddy Pendergrass, but never became a tabloid story. He dated supermodels and movie stars, but still his name didn't ring out beyond his wide circle of industry friends. The parties at his beachfront house in Hawaii became legendary, and his list of famous pals is, apparently, endless. Even His Holiness the Dalai Lama has time for Shep Gordon, for crying out loud.
And yet, we believe him when he says "I have always tried to avoid [fame]", because it was clearly always right there, as ripe fruit hanging in easy grasp. At any point, Gordon could have had his name in lights. But, he waited until now, 45 years into his career, to say yes. What fun to try to figure out why.
Featuring frank, funny interviews with Gordon's friends Michael Douglas, Emeril Lagasse, Willie Nelson, Alice Cooper, Anne Murray, Tom Arnold and Sylvester Stallone, among many others, and overflowing with better anecdotes than you could hear in two decades of dinner parties, this is some of the most fun I have had at the movies in ages.
"Supermensch" is just a super movie.