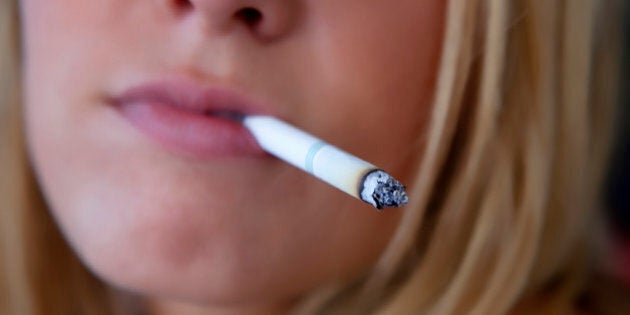 Glossy, colourful cigarette ads are appearing in popular magazines that appeal to young people and need to be banned, an anti-smoking advocate says.
In the U.S., R.J. Reynolds is running full-page ads for Camel cigarettes in magazines like Vanity Fair and Sports Illustrated with slogans including, "Inspiration is where a moment becomes a memory," and "Inspired, Passionate, Original, Taste It All."
In Canada, tobacco advertisements face severe restrictions, such as no lifestyle ads with glamorous imagery, said Lorraine Fry of the Non-Smokers' Rights Association in Toronto. But Canadian youth legally see the ads in U.S. magazines.
"We're way ahead of the States," said Fry, who has been tracking the tobacco industry for more than a decade.
"But we don't have a ban on cross-border advertising so there's all kinds of magazines that come across the border such as Sports Illustrated, Playboy, Glamor magazine, Vanity Fair that young people would read that have gorgeous, full-page print advertising of tobacco products."
A group of first-year students at the University of Toronto said the ads are appealing. "This is definitely our age group," Alannah Yah said looking at an ad in Vanity Fair.
"From this angle she looks very attractive," said Chantelle Wong.
In the last 10 years, there has been a crackdown on cigarette advertising aimed at children. Based on the imagery, the latest ads are for older teens and young adults, said Timothy Dewhirst, a marketing professor at the University of Guelph.
"It's about embracing what's now," he said reading from one ad. "I think what's disconcerting about the appeal to youth here is saying about the embracing what's now, basically looking for instant gratification and not worrying about what the consequences might be from smoking."
Dewhirst said a number of health organizations in the U.S have expressed concerns that these magazines have a sizeable teen readership in the U.S.
"This is a notable loophole or concern just because the majority of media that we do consume in Canada is American in content."
For Fry, the solution is to implement the World Health Organization's international treaty banning cross-border cigarette advertising, which Canada has signed and ratified but isn't yet in force.
"A total ban on advertising would be the purview of the federal government, would be Health Canada," Fry said. About 12 countries have brought in total bans. Since the treaties aren't punitive, the consequences come from peer pressure, she added.
Health Canada would not comment to CBC News except to point to a section of the Tobacco Act that allows tobacco ads in foreign media.
The company that owns the Canadian rights to Camel declined to comment.