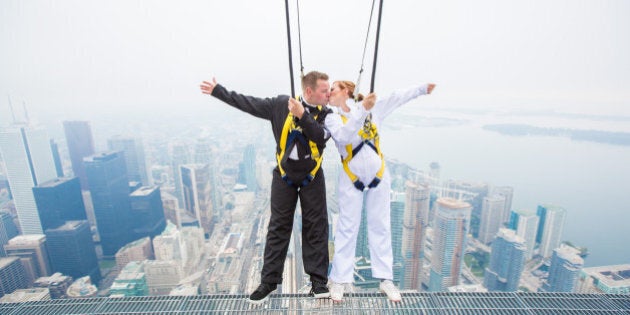 Saying "I do" for better or worse is nerve-wracking enough for some people. But not for this daredevil couple who tied the knot at Toronto's EdgeWalk at the CN Tower, teetering on the edge of Canada's tallest structure.
Lacy Boland and John Kirk from Barrie, Ont., were the first to be married on the outer brink of Toronto's signature skyline fixture, 356 metres (116 storeys) above the ground. The couple's entourage was just as adventurous and included a minister, a wedding party of four as well as their parents.
"We always wanted a memorable wedding and what could be more exciting than to have it on EdgeWalk," said Boland and Kirk in a statement. "Our wedding seemed to be a distant dream as our three wonderful children have always come first. We feel truly blessed to be part of such a wonderful experience."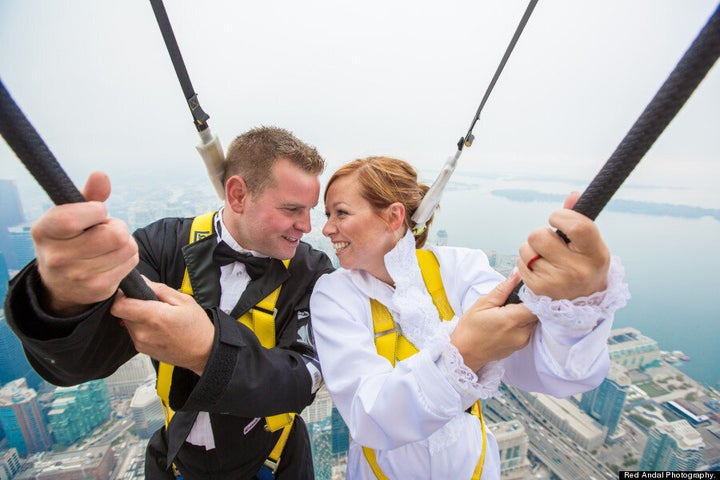 (Photo: Red Andal Photography)
The couple, who won the wedding as part of a contest earlier this summer, had to wear special safety walksuits designed for the occasion. They dressed them up however with a white suit for the bride, pink for bridesmaids and tuxedos for the guys.
The first of its kind in North America, EdgeWalk is the world's highest external walk around a building — hands free — on a 5-foot (1.5 meter) wide ledge encircling the top of the CN Tower's main pod. Adrenaline junkies walk in groups of six, while attached to an overhead safety rail and a trolley and harness system.
The couple wasn't taking extra chances though by exchanging precious rings atop the open metal platform. "For safety reasons, specially designed elasticized rings were exchanged symbolically on the EdgeWalk itself and the actual wedding bands were exchanged back on the ground in the presence of family and friends," according to the CN Tower.
After the ceremony, they were joined by family and friends for lunch at the CN Tower's 360 Restaurant. Of course there was also a cake, featuring a custom designed topper resembling the couple on EdgeWalk.
Thrill-seekers as young as 13 and as old as 90 have experienced EdgeWalk, which costs $175 a person.
The tourist attraction says that since EdgeWalk first opened, many people have chosen the venue for proposal, birthday, and anniversary celebration EdgeWalks.
Would you ever dare to get married on the edge of the CN Tower? Let us know in the comments below: