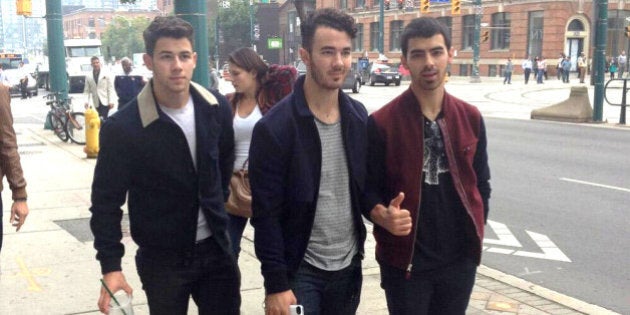 You know you're in Toronto when teen idols are wandering the streets sans entourage. And you know it's We Day time when those teen idols are the Jonas Brothers.
The pop heartthrobs are in town for Friday's We Day event, which brings thousands of Ontario students together with leading activists and celebrities to the Air Canada Centre for a day to celebrate and inspire youth-driven social change.
AOL employees ran into Nick, Kevin and Joe Jonas in downtown Toronto Thursday afternoon. Although AOL is a sponsor of this year's Me To We Awards, this encounter happened purely by chance. The brothers were armed with little more than their Starbucks drinks and fall jackets, and posed for a photo on Spadina Ave.
The Twitter pic was just a glimpse of the star power and excitement of the event. Check out some of the tweets from the attendees and We Day supporters: