The contradictory reports added to the confusion surrounding the attack that has left at least 62 people dead, including two Canadians, and 150 wounded, with al-Shabaab also denying on Tuesday a Kenyan cabinet minister's statement that several Americans and a British woman were among the perpetrators.
"It is a bit confusing, because yesterday the government had said that it had all but ended the siege that was going on at the Westgate Mall," CBC News reporter Nahlah Ayed said from outside the shopping centre. "And yet this morning, we woke up to more gunfire and, just in fact in the last few minutes, more gunfire."
Ayed said Kenyan officials are now acknowledging there could be a small group of holdout fighters, up to three, still at large, and that troops were sweeping through the mall in attempt to root them out. "Officials have said repeatedly that they feel the hostages are all released," Ayed reported.
But Twitter messages posted Tuesday by al-Qaeda-linked al-Shabaab said its fighters are "still holding their ground" and still have hostages.
Al-Shabaab said the hostages "are still alive, looking quite disconcerted but, nevertheless, alive."
A security expert with contacts inside the field of operations said Monday night there were at least 30 hostages when the assault began Saturday and at least 10 were believed to be still inside the upscale mall.
Sporadic gunfire could be heard from the building Tuesday, thought to coincide with government forces pressing on inside. An armed military vehicle arrived at the scene in a further suggestion that operations were not yet over.
There were several loud explosions from the area as well, but Kenyan police said on Twitter that those represented a "cleanup of explosives that had been set by the terrorists."
Al-Shabaab, whose name means "The Youth" in Arabic, says the mall attack is in retribution for Kenyan forces' 2011 push into neighbouring Somalia, where African Union forces pushed the group out of the capital in 2011.
The UN envoy for Somalia is calling for additional African troops to counter al-Shabaab, which he said numbered some 5,000 people and posed an international threat. Nicholas Kay said Tuesday in Geneva that there was a "once-in-a-generation" opportunity to help bring peace to Somalia. "Security remains the No. 1 challenge, the control and defeating of al-Shabaab is key to this," Kay told a news briefing. "The amount of money that we're talking about that's required for the extra effort in Somalia would be very small. But the cost of walking away would be very expensive."
It wasn't immediately clear how many attackers there were or where they were from. Somalia-based Al-Shabaab is thought to number around 6,000 fighters in total, including dozens of Canadians and Americans.
On Monday night, Kenyan Foreign Minister Amina Mohamed told U.S. public broadcaster PBS that the attackers included "two or three Americans" and "one Brit."
She said the Americans were 18 to 19 years old, of Somali or Arab origin, and lived "in Minnesota and one other place" in the United States. The attacker from Britain was a woman who has "done this many times before," Mohamed said.
That raised speculation of involvement by British citizen Samantha Lewthwaite, known as the "white widow," whose late husband, Germaine Lindsay, was among the perpetrators of the July 7, 2005, transit bombings in London. Lewthwaite, who left Britain in 2009, has previously been charged by Kenyan authorities as part of alleged bomb plot, and is also suspected of links to a group that set off grenades in a bar in the coastal city of Mombasa during the Euro 2012 soccer tournament.
U.S. officials said they were looking into whether any Americans were involved. State Department spokeswoman Jen Psaki said Monday that the department had "no definitive evidence of the nationalities or the identities" of the attackers.
Britain's Foreign Office said it was aware of the Kenyan foreign minister's remarks, but would not confirm if a British woman was involved.
Al-Shabaab has rejected suggestions that foreigners were involved.
"We have communicated with our mujahideen [fighters] in Westgate and they told us fighting has just started," the group's media office told the Reuters news agency. "Those who describe the attackers as Americans and British are people who do not know what is going on in Westgate building."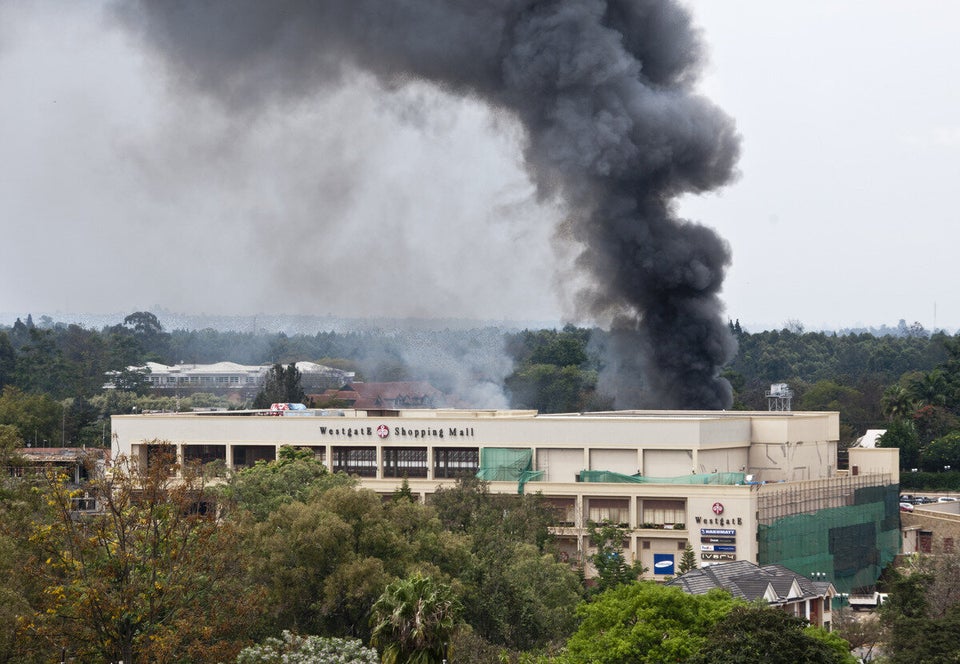 Attack At Mall In Nairobi