"If any group was going to do this, it probably was going to be al-Shabaab because of their use of social media," Raffaello Pantucci, a senior research fellow at the London-based Royal United Services Institute, told CBC News
"They're clearly an organization that sees the value," said Pantucci, who focuses on counter-terrorism. "Broadly speaking they've been quite canny about how they've done all this."
Al-Shabaab launched its attack Saturday, killing a reported 62 people, including two Canadian citizens. Canadian officials have also confirmed that at least two Canadian citizens were among the 175 injured in the attack at the upscale shopping mall.
During Saturday's attack, the group's Twitter account @HSMPress (the HSM stands for "Harakat al-Shabaab al-Mujahideen") gave an updated account of events, while explaining the purpose of its actions.
"The Mujahideen entered #Westgate Mall today at around noon and are still inside the mall, fighting the #Kenyan Kuffar inside their own turf," the group tweeted.
Earlier Sunday, al-Shabaab tweeted from a different Twitter feed — after its previous one was shut down Saturday — that Kenyan officials were asking the hostage-takers to negotiate and offering incentives.
"We'll not negotiate with the Kenyan govt as long as its forces are invading our country, so reap the bitter fruits of your harvest," al-Shabaab said in a tweet.
But Twitter is just one of the social media tools the group employs. Facebook and YouTube have also been exploited to broadcast its message and ideology, which is generally aimed at a younger, Western audience.
That social media is so heavily used by al-Shabaab is hardly surprising as the organization started back in 2006 with a primarily young membership.
"Al-Shabaab has always been more cutting edge in terms of usage of media," Rudolph Atallah, a senior fellow at the Atlantic Council's Africa Center, told CBC News.
The group has also been fairly creative in its use of audio and visual images in its development of recruitment-like YouTube videos — showcasing its leaders and the organization's capabilities, all to appeal to a younger generation, Atallah said.
But it seems to be most productive on Twitter. And since a terrorist organization is fundamentally about trying to broadcast a message, Twitter is the perfect vehicle, Pantucci added.
Its feeds have been shut down a number of times for violating Twitter's terms of use, only to spring up again in another form, said Kenneth Hall, a Queens University political science research assistant who researched al-Shabaab and its use of social media.
Al-Shabaab is fairly prolific and, like many users, has been involved in Twitter wars with different groups, including a tweet spat with a spokesman with the Kenyan military.
"There was actually a fairly lively back and forth between the two accounts where al-Shaabad was taunting the Kenyan military," Hall said.
"There's definitely a hint of arrogance in the way they do their social media," Hall said. "It's about capability. That they're not only capable of pulling off these attacks in the first place but they're also capable of broadcasting these things to the world before any Western media outlet is able to."
But the group also uses social media to boast about attacks that the Western media doesn't cover, Atallah said.
"When that happens, al-Shabaab is good at going on Twitter and Facebook, showing photos of their handiwork," he said.
That also helps shore up its credentials among al-Qaeda, which has had a strained relationship with al-Shabaab in the past.
But a top priority remains the recruitment of foreign fighters, who have at times become disillusioned with the organization.
"The amplification on Twitter, the amplification on Facebook…are all ways to show, one, viability, and two, it amplifies their message to recruit more," Atallah said.
Kenyan officials have said that fighters from an array of nations participated in the attack on the mall.
"Obviously, the Twitter feeds and the social media feeds have had some impact in this," Atallah said.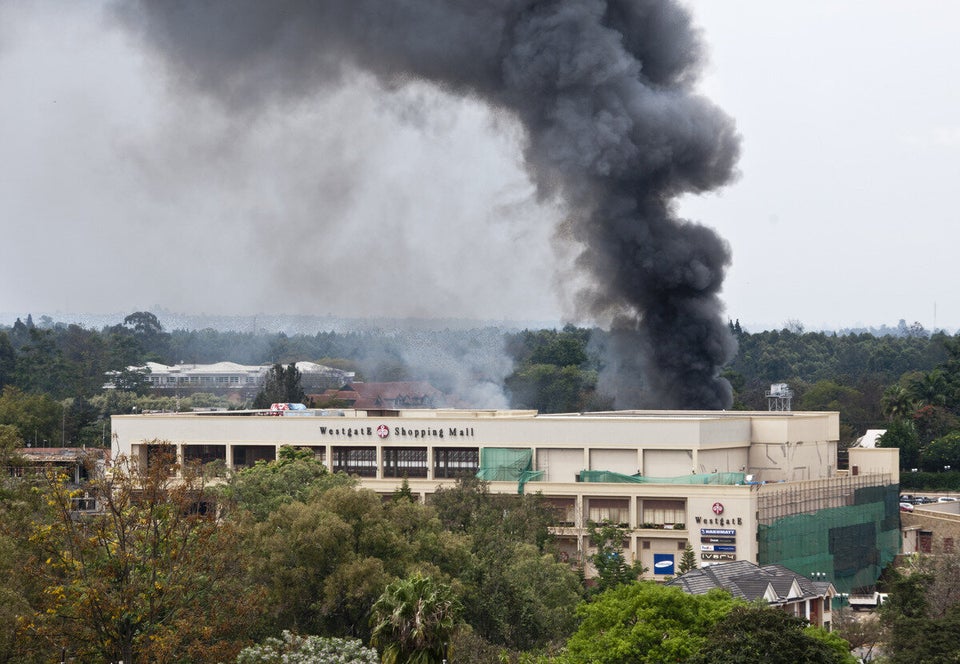 Attack At Mall In Nairobi