On June 6, 1944, more than 160,000 Allied soldiers landed on the beaches of Normandy. At least 12,000 became causalities.
The terrible toll those Canadian, American and British soldiers paid to help liberate Europe from Nazism was remembered in a moving tribute on the Normandy beach of Arromanches Saturday. But the Fallen 9000 Project, completed as part of the International Day of Peace, honoured all people affected by the terrible bloodletting, including the civilians and German soldiers who perished.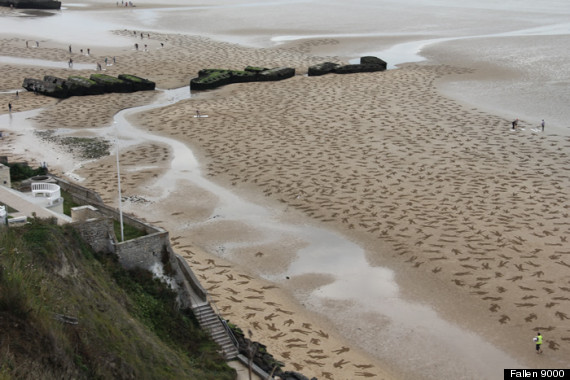 The endeavour saw volunteers stencil silhouetted representing the roughly 9000 civilians and soldiers who died at Arromanches on D-Day.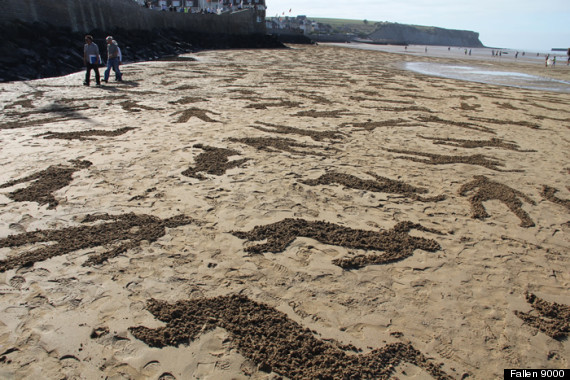 The silhouettes were drawn at the same rate at which people fell on that fateful day, only to be erased by the incoming tide.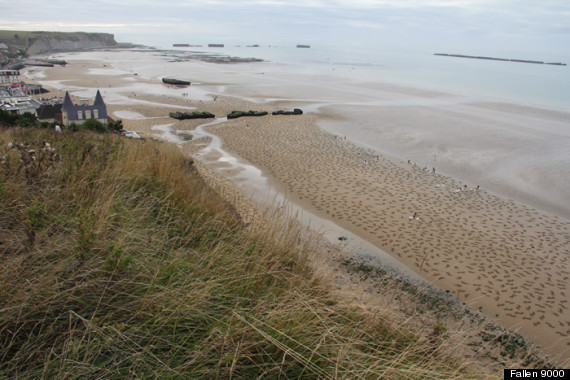 The project is the brainchild of U.K. sand artists Jamie Wardley and Andy Moss.

The idea was to "create a visual representation of what is otherwise unimaginable -- the thousands of human lives lost during the hours of the tide," Wadley said in a press release. "The Fallen is a sobering reminder of what happens when peace is not present."
Wardley told HuffPost Canada that seeing the project come together was "absolutely amazing."
He said roughly 60 volunteers signed up to help ahead of time, but that those numbers would not have been nearly enough to get the job done. Something magical happened on the day itself.
"People just started turning up," Wardley said. "It was just so awe inspiring ... that they were embracing it."
Story continues below slideshow
More than 24,000 Canadians landed in France on D-Day, most at Juno Beach. They faced heavy artillery, machine gun nests and a massive seawall. The first wave suffered approximately 50 per cent causalities. Nevertheless, within hours, the Canadians made it off the beach. By the end of the day, the 3rd Canadian Infantry Division had made it deeper into France than any other Allied unit.
The Canadian government opened a museum commemorating the soldiers of Juno beach in 2003.
While there are many monuments and museums in Normandy, Wardley said that what is missing is symbols of the people who died, soldiers and civilians, German and Allied.
On Saturday, people from Germany, France, the U.K and as far away as Chile worked together to complete the project.
"It was a very human event," Wardley said. "People from all different cultures came together to make this very human statement."
Also on HuffPost