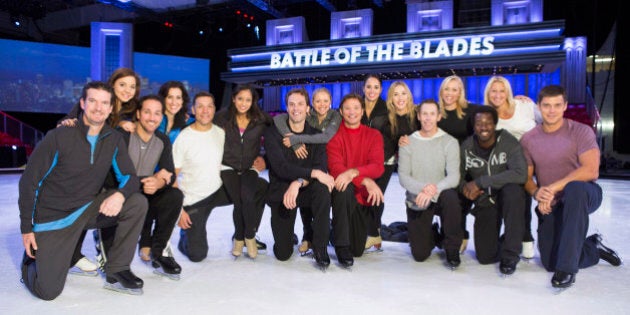 Not all skaters are created equal. "Battle of the Blades" clearly exemplifies that notion. The addictive reality series pairs former NHL players with renowned figure skaters, and on a weekly basis, each duo performs a routine, with the lowest-scoring team eliminated.
Recently, the talent gathered at Etobicoke's Mastercard Centre for a media event. This year's couples include Shae-Lynn Bourne and Anson Carter, Jessica Dubé and Brian Savage, Marie-France Dubreuil and Mathieu Dandenault, Amanda Evora and Scott Thornton, Marcy Hinzmann and Mike Krushelnyski, Oksana Kazakova and Vladimir Malakhov and lastly, Sinead Kerr and Grant Marshall. HuffPost Canada TV was on-hand to speak with the contestants, along with host Kurt Browning, about this next season of "Battle of the Blades," which will kick off its first-ever live performance on September 29.
Why did you want to become involved with "Battle of the Blades"?
Anson Carter: It was an interesting concept. For years, I've been talking about possibly participating. Now, my girls are getting older. My daughters are 5 and 7. All they know is Daddy sitting on the couch watching hockey or Daddy on TV with NBC Sports as an analyst. This is their chance to actually watch me competing with a great partner like Shae-Lynn. For me, there's nothing better. I always tell them, "Try something new. Don't be afraid."
Jessica Dubé: For me, it was about the charity, but I could never be on the show before. I was still competing. When I retired and they called me, I was so excited. I've seen it before and always thought it would be so much fun. I was missing skating a lot, so it was a perfect opportunity for me get back on the ice.
Let's rewind. What was it like the first time you slipped on those figure skates and hit the ice?
Anson Carter: It's tough. You think because you've played professional hockey for so long it would be second nature. I like to pride myself on being an athletic, diverse person. If I see something, I can do it. It's a whole different ball of wax in these bad boys. For me, it's frustrating because I see Shae-Lynn moving around. I'm thinking, "I am a hockey player. I can skate." It's a total opposite, so I had to reprogram my mind and not get too frustrated. I'm a competitive person and I want to compete.
Brian Savage: The first day, I fell twice, which was pretty good, but it was just hard to get used to. The blades are a lot longer. Obviously, there's the toe picks. The first day was cautious, to say the least. After five or six times, you get a feel for it. You come down here and get a good partner. A patient partner.
Shae-Lynn, this is your third time participating in "Battle of the Blades." Does that give you an edge in terms of approach and choreography?
Shae-Lynn Bourne: Absolutely. There's a certain confidence that goes with doing the show, especially the first year, because that was the scariest. I've been teaching now and doing choreography for many years, so I love it. It's my passion. Any opportunity I take, especially when I know somebody is eager and working hard and they want to do well, there's nothing better than that atmosphere. And it's showbiz. I love the entertainment value of this and most importantly, there's a charity involved. It brings awareness to all of these charities. How can you not say yes to that?
How important are the trust and showmanship aspects of the show?
Shae-Lynn Bourne: Trust is huge. And of course, so is chemistry. We're out there together and the most important thing is for the audience to feel what you're doing and to be entertained. You can't just think about the technique. That's another part Anson is learning about. You don't do that in the first step. One day we were running through things and he had this expression. He got so comfortable with the steps that he didn't have to think about his feet, so he could actually emote. He has personality, so it will be great for the audience to see that. In hockey, you only see it to some degree. They are still covered. There are helmets and they're sharing the ice with many guys. But now it's Anson's chance to shine and for the world to see him.
How scary are the initial lifts and choreography?
Brian Savage: We do most of it off-ice. We go for about an hour of lifting and learning and then slowly bring it to the ice. We do an easier lift first, but now we're doing all kinds of crazy interesting lifts just three weeks in. We have the coaches right there for the first five lifts. After that, we're on our own. So far, so good.
What do believe are your strengths and weaknesses?
Jessica Dubé: I think one of our strengths is the chemistry. From the start, we got along really well and that's what we need on the ice. When we skate, we're able to look at each other. That's hard for the hockey players ... to look at me and know where he's going.
Brian Savage: The other side is mastering the posing, the staring, the serious looks and the touchy-feely stuff on the ice. We don't do that. We're used to going hard and battling it out. Here you have to be elegant.
Who would you size up as your competition?
Brian Savage: We haven't seen too many people skate. We're always on different schedules. And there's different girls too. There's dancers and jumpers. I would say maybe Grant. He's been skating well.
What was your biggest misconception about figure skating?
Mike Krushelnyski: I thought it was similar. I thought it was a piece of cake. When we're playing hockey or in practice, we'd always fool around and do the turns. "It's got to be similar." It's night and day. They are two entirely different things.
On top of hosting, your duties have changed this season. Can you talk about sitting at the judges' table now?
Kurt Browning: I'm really not worried about being on-camera or what I'm going to say. I suddenly became super aware of the fact that I respect my friendships with the figure skaters and also what I know these guys put into this. I want to do my job well. I'm a little nervous, but it's going to be fun. Jamie Salé and I have known each other forever. I think the judging energy is going to be very different. I think Jamie and I will be handing out advice. "This is how I see it. Your mark will go up if you do this next week."
As a figure skater yourself, will you be more sympathetic to the contestants or be more critical of the technical aspects?
Kurt Browning: Everybody has been curious about what technical aspects go into judging. That just isn't the case. I believe the criteria I'm using as a judge isn't that different than the criteria somebody in Halifax on their couch is using to judge. Did you make me have a good time? Was I entertained? Did you do something that I think pushed the limits of your ability? Did you do something where you learned?
Kurt Browning: It's the fact that Mom and Dad, son and daughter, figure skating fan and hockey fan, all have one place now where they can sit down together. Now, there's communication happening. It's so Canadian it's dripping maple syrup. In these two worlds, we shared the rink, but we didn't share much else. Hockey and figure skating didn't cross. Now they do.
"Battle Of The Blades" Season 4 premieres on Sunday, September 29 at 8 p.m. ET/8:30 p.m. NT.