AP
Whether you liked the ending or not, season eight's finale of 'Breaking Bad' will be talked about for the days to come.
And now that the show's done, it's only a matter of time before fans display the typical withdrawal symptoms: increased sleep now that the 'Breaking Bad' binges are over; increased weight gain now that fans remember what it's like to have time to eat, and anhedonia -- that state where the things that used to make you happy just don't feel the same any more.
Alas, these signs will come to pass. But until they do, perhaps it's time for one more trip -- a road trip of course.
The team at Roadtrippers, a road trip planning company, have put together a little map highlighting the best of Walter White's journey from suburban chemistry teacher to one of Albuquerque N.M.'s most hardcore drug pushers.
And really, what's a 'Breaking Bad' road trip without a visits to the To'hajilee Indian Reservation, where White's journey first started, Gus Fring's Los Pollos Hermanos -- better known as Twisters Grill in real life -- or a trip to wash your car at the real-life shop which doubled as the show's Octopus Car Wash?
Yes, 'Breaking Bad' has done more than captivate millions over the years, it's also breathed some life into Albuquerque N.M.'s tourism scene with devoted fans travelling in search of "blue ice candy" and signing up for trolley and private limo tours of scenes.
But for those who'd explore Albuquerque N.M.'s 'Breaking Bad' on their own terms, better buckle up and channel your inner Jesse Pinkman because you're about to embark on a "road trip, b---h!"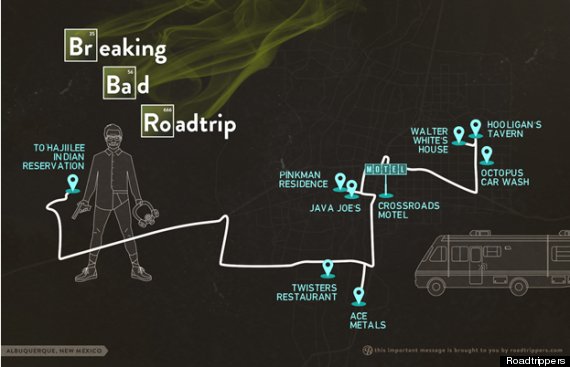 H/T Roadtrippers
Like this article? Follow us on Twitter
Also on HuffPost
Themed-Tours Based Off Of TV Shows