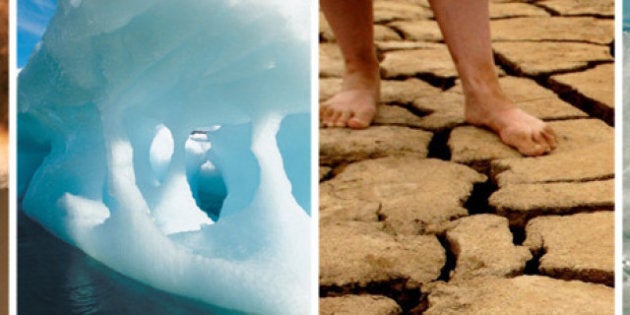 Still don't believe in climate change?
Well, apparently it believes in Canada -- so much so that the country is among a handful expected to feel the pinch most dramatically.
"The atmosphere and ocean have warmed, the amounts of snow and ice have diminished, sea level has risen, and the concentrations of greenhouse gases have increased."
And, among countries expected to feel the coming thaw, Canada appears to be on the short list.
"Evidence for a warming climate is getting stronger and stronger, and the evidence of the influence of human activities on that climate change is getting stronger and stronger," Environment Canada scientist Gregory Flato told the Globe and Mail.
"As this report shows and previous reports have shown, climate change and warming in particular is amplified – that is, it's larger – at high latitudes. So warming over Canada is larger than the warming that has been experienced [worldwide] and it is projected to continue that way. That warming over Canada will continue to be more rapid than the global [average] warming."
Climate change doubters have not yet embraced the new reality.
"The question is how much is it warming?" David Kreutzer of the Heritage Foundation in Washington asked CBC News. "How dangerous is that warming? And how much can we do about it and at what cost."
Why spend a fortune, Kreutzer continued, on a problem that probably can't be solved by humans anyway.