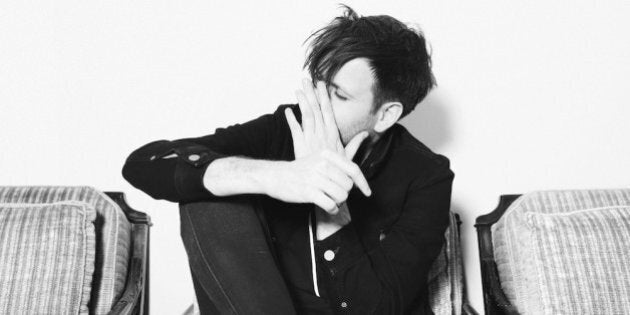 When Danish producer Anders Trentemøller is absorbed in work in his Copenhagen studio, there's little from the outside world capable of knocking him out of his bubble. Except for a call from Depeche Mode, that is.
The 38-year-old was putting the finishing touches on his just-released third album, "Lost," when he was offered an opening slot on the iconic synthpop band's Delta Machine tour in Europe. Trentemøller says he had no choice but to finish the album he had poured months of work into and abruptly switch from the isolation of his studio to the communal embrace of his live band.
Canadian Trentemøller fans will have to wait until next year to catch him and his band in concert, but in the meantime, "Lost" hit stores on September 23. The album retains the melancholic Scandinavian vibes of his earlier work, but he's also added more guest vocalists into the fold, including Ravonettes' Sune Rose Wagner, the Drums' Jonny Pierce and Blonde Redhead's Kazu Makino. HuffPost Canada Music recently spoke to him by phone from Copenhagen.
When you were alone in the studio working on "Lost," were you thinking about how the songs could be played live with the full band?
It was something I didn't want to think about when doing this album, because I didn't want to have any limits on the way I was doing things in the studio. If I start to think about how hard something might be to play live -- if I need six guitar players or a string orchestra on stage with me -- then I would be restricting my own sound. The big challenge for me is after the album is finished, to transform those sounds and build them up with my band. The versions people will hear live will be much different than those on the album.
Why call the album "Lost"? Isn't the studio the one place where you wouldn't be lost?
It's a funny thing, the word "lost" just kept coming up in my head while I was working on the album. It took on a double meaning for me. Being lost can be a negative thing, like you can't find your way in life. But it could also be a positive, like being lost in music, or lost in love. So being lost is about letting yourself go and living in the now, and that's how I feel when I'm listening to, playing or writing music; I let myself loose and forget about time and space, or the daily routine. This double meaning relates to the music too: I like to work with a palette of sounds that are quite dark and scary in a way, but I like to mix it with beautiful and light ideas too.
How does spending hours alone in the studio affect you?
When I was a teenager, I started out playing in a lot of different bands. It was great socially, but I had to make too many compromises because everyone had to agree on the music, and we'd end up with something we weren't 100 per cent happy with. To be alone in the studio and play nearly all of the instruments myself, that gives me a lot of control and satisfaction. It's possible for me to achieve the vision I have for my music, those ideas I have in mind, without having to talk to anyone else. But I also need that social aspect after a while, so it's great after the album is done to meet with the band and hear what they think about what I've done. I like letting my music go after a certain point, after being isolated for so long.
How was making "Lost" different than your previous two albums?
This time my focus was on making strong melodies. Many of the songs I was writing, they almost demanded that I find vocalists for them, so that was something that came up very early in the writing process. Because I knew the songs could sound great with vocals, I embraced that and spent a lot of time writing melodies that singers would actually want to work with. It was only much later in the process that I actually asked them to sing these songs, and it was nerve-wracking when I contacted them.
Was "Lost" greatly inspired by Copenhagen?
Not really, but the album was made there, and it's my hometown, so I'm sure it's possible to feel the Scandinavian atmosphere in my music. It's more my sound, and I think if I had recorded it in New York or somewhere else, it would have ended up being pretty similar. It's not about the surroundings for me, it's more about going inside myself and locking everything else out. It's more like a trip into my own fantasy world.