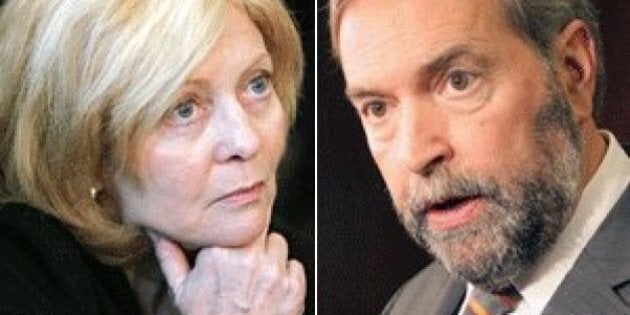 OTTAWA — The NDP is calling on the prime minister to bring in external auditors to verify the Senate expense claims of one of his own former advisers.
"Another CPC Senator caught in expense scandal. @pmharper, will you ask Deloitte to audit your ex-DComm Carolyn Stewart Olsen?," NDP Leader Thomas Mulcair tweeted Wednesday afternoon during the NDP's virtual question period.
The Huffington Post Canada reported Tuesday that Senator Carolyn Stewart Olsen, Prime Minister Stephen Harper's former director of strategic communications, had claimed living expenses during her first 20 months in office while she owned a condo in Ottawa and had a primary residence in New Brunswick.
NDP ethics critic Charlie Angus told HuffPost the NDP believes that Stewart Olsen should be subjected to the same treatment as Senator Mike Duffy, a former Conservative, whose living expenses were first scrutinized by a committee of his peers and then sent to external auditors at Deloitte.
Duffy lived in the Ottawa suburb of Kanata but told the Senate his primary residence was in P.E.I. He was told to pay back $90,172.24 in living costs, which includes home allowances and per diem expenses. (The repayment by Harper's chief of staff at the time, Nigel Wright, is now the subject of an RCMP probe).
"This was one of the closest advisers of the prime minister," Angus told HuffPost Wednesday. "He put her in this position. She oversaw the audit reviews of Mike Duffy and there's allegations of attempts to clean that up and the same allegations are now being levelled at her.
"If the Senate has any credibility, they should bring Deloitte back in to deal with her."
Story continues after slideshow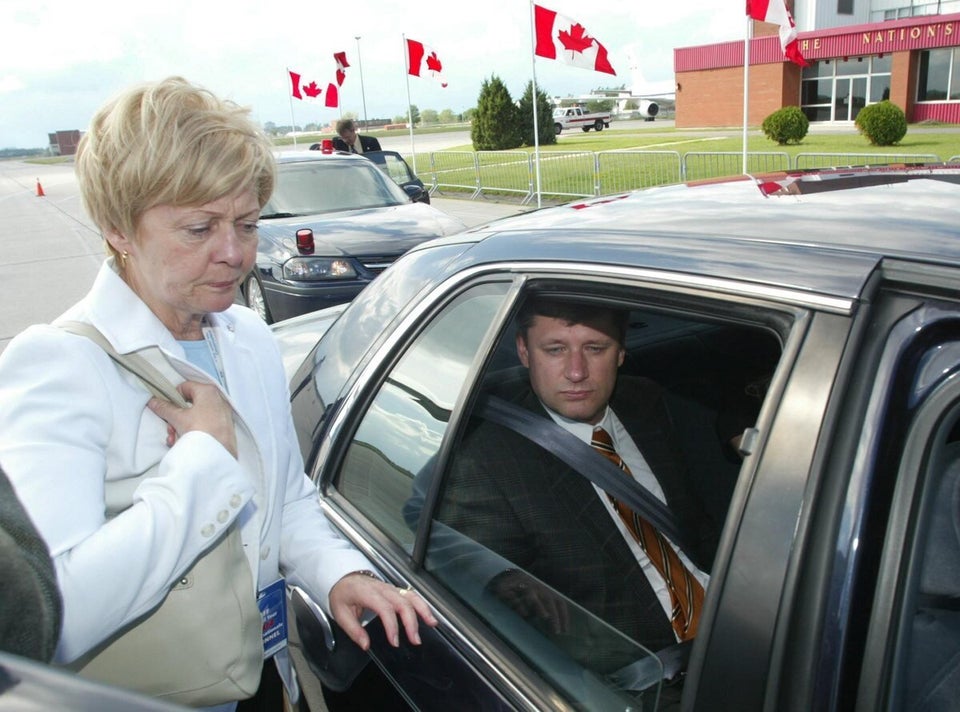 Sen. Carolyn Stewart Olsen
Shelley Ambrose, a friend of Senator Pamela Wallin who worked with her as a producer and later as a member of her staff at the Canadian Consulate in New York, said Stewart Olsen's expenses should be audited "under exactly the same guidelines" as Wallin's.
Wallin recently paid back $138,969 for what the Senate deemed were inappropriate travel expense claims.
"That audit — the basis of which was directed by Senator Stewart Olsen — applied a 2012 rule retroactively to all of Senator Wallin's expenses since she had been appointed. And, so, Senator Stewart Olsen must must be consistent and undergo the same audit with the same basis and guidelines, and the same retroactive rule applied," Ambrose wrote HuffPost in an email.
In an interview on Sept. 26, Stewart Olsen told HuffPost that despite not having a New Brunswick health card or driver's licence when she was appointed in August 2009, her case is not like Duffy's because he made no effort to live in P.E.I.
"In one sense, I feel very sorry for Mike, because it was for his medical condition that he wanted to keep his Ontario health card," Stewart Olsen said.
Duffy, who underwent open-heart surgery in 2006, has said he did not apply for a P.E.I. health card as soon as he was appointed in December 2008 because he wanted to stay close to his doctors at the University of Ottawa Heart Institute and his wife's family in the region.
Stewart Olsen said she did not recall when her paperwork arrived but said she had the documents this winter when a Senate committee she sits on asked all senators for their records. She told HuffPost her home in Cape Spear, N.B., was her primary residence.
"We lived here when I was appointed," she said. "It's not a cottage; it's a house."
Stewart Olsen's expense records in the fall of 2010 and early 2011 suggest that she claimed per diems on days the Senate did not sit, no committee or caucus meetings were held and she had no Senate business in Ottawa.
Stewart Olsen told HuffPost that she would return any per diems she, or her staff, may have claimed in error. On Tuesday, however, the senator sent a statement saying she had verified her expenses with the Senate finance administration and that nothing improper had been found.
"I welcome the Auditor-General's review of all senators' expenses," she said.
A spokesperson for the Senate said members of the financial administration could not discuss Stewart Olsen's expenses with the media. That information is "currently part of the planned audit by the Office of the Auditor General and will be shared publicly when his report is published," said Annie Joannette.
Auditor General Michael Ferguson will launch an investigation of all senators' expenses this fall — although the terms of his audit have not been made public.
Stewart Olsen's office did not return calls for comment on Wednesday. The Prime Minister's Office said in a statement that "Senator Stewart Olsen has said all her expenses followed the rules."
Gerald Comeau, the current head of the internal economy committee that sent Duffy's audit to Deloitte, told HuffPost Tuesday that Stewart Olsen's expenses would be reviewed by the steering committee — and she would not sit on her review.
But on Wednesday Comeau said he had asked the Senate's finance administration to review the issues raised by HuffPost instead.
"If the administration reports that there is cause for further review, and this applies to all senators," he said in a statement. "This would be brought to the attention of the steering committee."